Castor Oil for Beard
Did you know? The application of Castor oil on your beard is one of the best ways to grow it. Castor oil provides essential nutrients to your hair follicles, moisturises hair and helps it to become thick and lustrous. Castor oil also keeps beard dandruff at bay.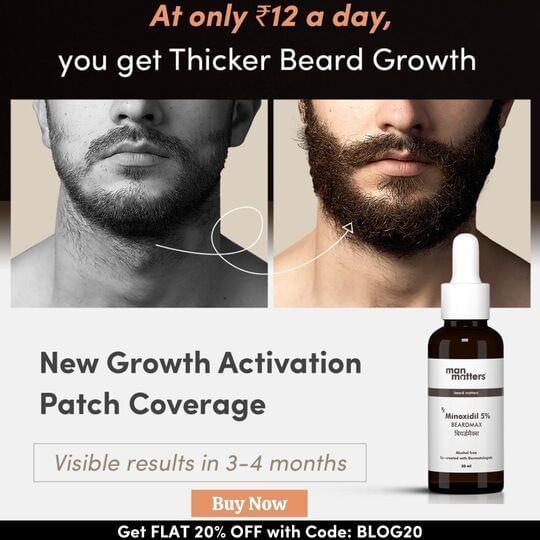 Castor Oil for Beard Growth
Research suggests that castor oil is good for the beard and is an effective natural way to grow a beard. It thickens hair strands and nourishes hair roots. However, castor oil benefits concerning beard growth are yet to be scientifically proven.
Castor Oil Properties
Studies have found that castor oil has ingredients that nurture hair follicles and boost beard growth, such as:
Ricinoleic acid: It has antifungal, antimicrobial, and antibacterial properties, which improves blood circulation and keeps your hair healthy.
Oleic Acid: It moisturises beard hair.
Stearic Acid: This aids in maintaining your natural hair colour. It reduces white hair growth. It also helps remove extra oil from your hair.
Linoleic acid: It retains moisture in beard hair follicles.
Castor oil is also rich in vitamins E and F, Omega 9 fatty acids, proteins and minerals, and triglycerides, which help healthy facial hair growth.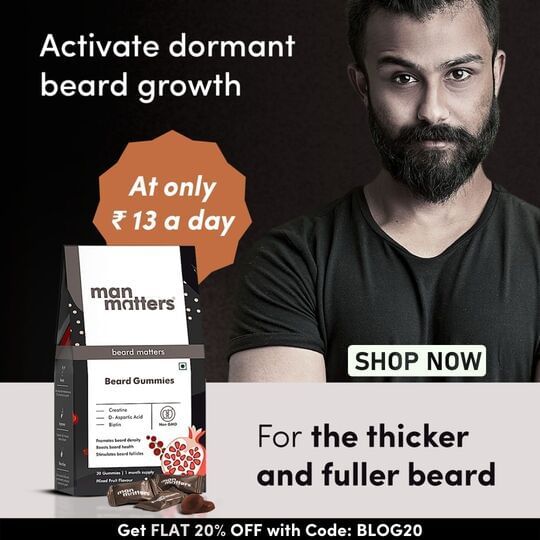 Types of Castor Oil
Some variants of castor oil are:
Castor Oil: One makes castor oil by cold-pressing castor seeds.
Black Castor Oil: One produces black castor oil by extracting oil from roasted castor seeds.
Jamaican Castor Oil: A unique method involving roasting, crushing, and grounding castor seeds is used to manufacture this oil. The grounded seeds are then boiled in hot water and pressed to extract oil.
Also read: All you need to know about beard transplants
Castor Oil Benefits for Beard
Here are some benefits of castor oil for the beard:
Thickens beard hair
It helps treat beard dandruff when applied regularly
Enhances hair growth
Fills patchy and bald areas
It prevents split ends and nourishes roots.
It can help prevent hair thinning.
Moisturises facial hair prevents dryness and hair breakage
Darkens beard hair and makes hair shiny
How To Use Castor Oil for Beard Growth
Follow the given steps to apply castor oil to your beard:
Wash your beard with lukewarm water.
Clean and dry your beard with a cotton towel.
Please take a few drops of oil, apply it to the skin underneath your beard, and gently massage it.
Use a comb to help the oil to absorb into your skin.
Keep it on for a few hours or leave it on overnight.
Wash your beard with beard wash.
Castor oil is thick in density, which makes it a bit hard to apply. You can use other carrier oils with it, such as almond oil, tea tree oil, etc., to increase its viscosity. You can also use castor oil and coconut oil for beard growth by mixing them.
Why Castor Oil Alone Won't Help You Grow Your Beard Quickly
Whether castor oil helps to grow a beard or not hasn't yet been scientifically proven. However, its properties strengthen hair follicles, nourish hair roots, and promote blood circulation, which in turn increases hair growth.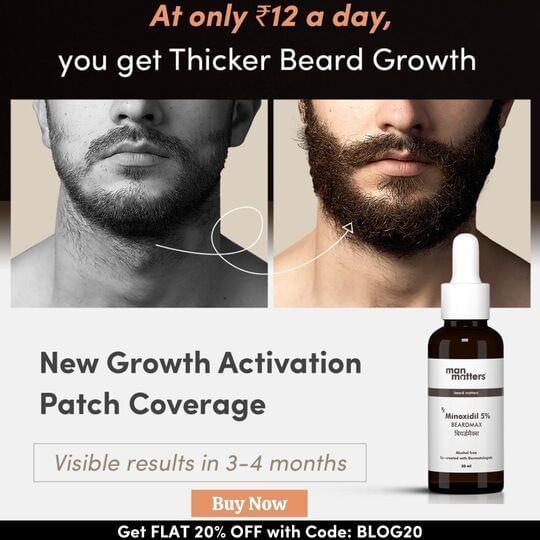 Beard Growth Remedies
Some other oils that can accelerate beard growth are listed as follows:
Almond Oil
Rich in magnesium and biotin, almond oil has essential nutrients required for thick beard growth, according to research. Its fatty acid content enhances blood circulation, which helps moisturise the scalp. It also treats dandruff by removing dead skin cells.
Jojoba Oil
Studies have found that this is a non-greasy, moisturising oil, which hydrates the scalp by removing excess sebum. Jojoba gets absorbed quickly into the facial skin due to its low melting point, resulting in quick results. It is specifically used for treating split ends.
Argan Oil
Antioxidants, vitamin E, and linolenic acid content in argan oil make beard shiner and healthier with the aid of keratin, as research suggests. It protects beard hair from damage and thickens your hair.
You can use castor oil combined with any of the oils mentioned above to increase facial hair growth.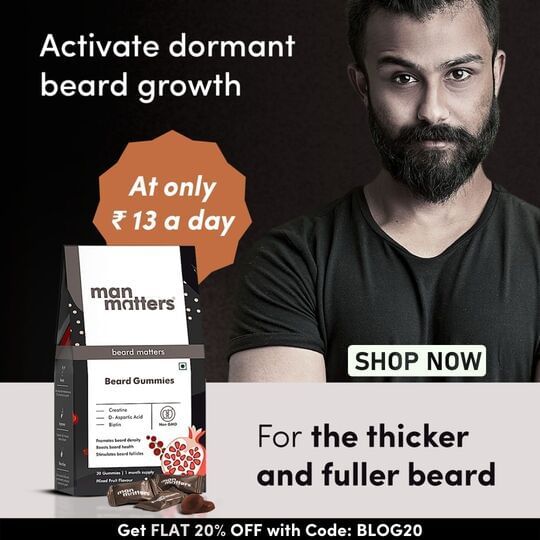 Is Castor Oil For Beard An Effective Solution?
Yes! Castor oil is an excellent beard growth remedy when used correctly. Due to Castor oil's thick nature, make sure to use carrier oils to make its consistency more liquidy. However, if you are allergic to Castor oil, please refrain from using it and make sure to consult a doctor before use or if you face an allergic reaction.
Also read: 10 beard growth foods for a thicker beard
FAQs
How long does castor oil take to grow a beard?
It may take 21 to 30 days to get visible results.
Which oil is best for growing a beard fast?
Olive oil, sunflower oil, coconut oil, jojoba and argan oil helps accelerate beard hair growth.
Does castor oil help a patchy beard?
Yes, it fills patches and promotes hair growth.
Does castor oil darken skin?
No, it doesn't darken your skin. It helps to reduce skin pigmentation.
Can I use castor oil for my moustache?
Yes, one can use it for a moustache too.
Does castor oil for facial hair work?
The oil increases facial hair follicle count, thereby accelerating hair growth.
References
Meriem Belarbi (2009) Physicochemical and nutritional study of argan oil (Argania spinosa L.) in south-western Algeria (Research Gate) https://www.researchgate.net/publication/240602669_Physicochemical_and_nutritional_study_of_argan_oil_Argania_spinosa_L_in_south-western_Algeria
Zipora Tietel (2021) Medicinal properties of jojoba (Simmondsia chinensis) (Research Gate) https://www.researchgate.net/publication/348970261_Medicinal_properties_of_jojoba_Simmondsia_chinensis
Zeeshan Ahmad (2009) The uses and properties of almond oil (National Library of Medicine) https://pubmed.ncbi.nlm.nih.gov/20129403/
Vinay R. Patel, Gerard G. Dumancas (2016) Castor Oil: Properties, Uses, and Optimization of Processing Parameters in Commercial Production (U.S. National Library of Medicine) https://www.ncbi.nlm.nih.gov/pmc/articles/PMC5015816/
Bolaji Salihu (2014) Castor oil plant (Ricinus communis L.): Botany, ecology and uses (Research Gate) https://www.researchgate.net/publication/292716749_Castor_oil_plant_Ricinus_communis_L_Botany_ecology_and_uses