Medically Reviewed by
Dr. Navya Chawdry
, M.D. (DVL) Dermatology, Venereology and Leprosy, Reviewed on 25th January 2021
If you're wondering whether lost hair can grow back or whether hair grows back after balding, you need to read this.
Derma roller is the new trend to solve hair loss and the regrowth of hair, and there are results to prove it.
Derma rollers are medical devices that need to be used with care and handled hygienically.
Derma rollers really work for your hair growth. Find out how in this article.
What is Derma Roller for Hair?
Derma Roller for hair is highly effective in tackling hair loss, hair growth, and regrowth. It's a form of micro-needling having tiny needles varying from 0.25mm to 1.5 mm. When you roll the derma roller on your scalp, its needles puncture holes so that the remedial qualities of oils can easily reach the hair follicles.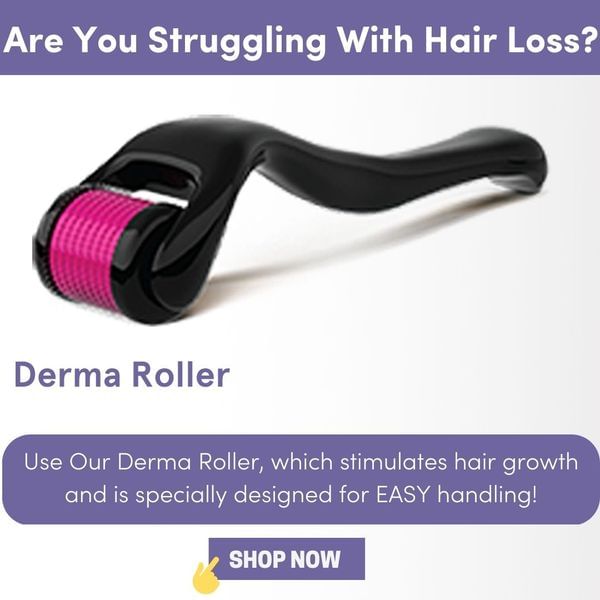 What is Derma Roller for Men?
Derma roller for men is incredibly helpful in tackling hair loss, hair growth, and beard growth. This has also proved to be extremely effective for hair regrowth. It is a micro-needling form since the roller has tiny needles attached to it.
When you use the derma roller on your scalp, the derma roller's needles are known to puncture holes.
Wondering why? The roller causes controlled injuries to your scalp's skin. When your scalp responds to this, the healing process stimulates various hair growth responses.
A derma roller really works for hair growth.
Here is an easy-to-understand scientific guide about derma rollers. It explains why you need a derma roller for hair and how it works.
Derma Roller Benefits for Hair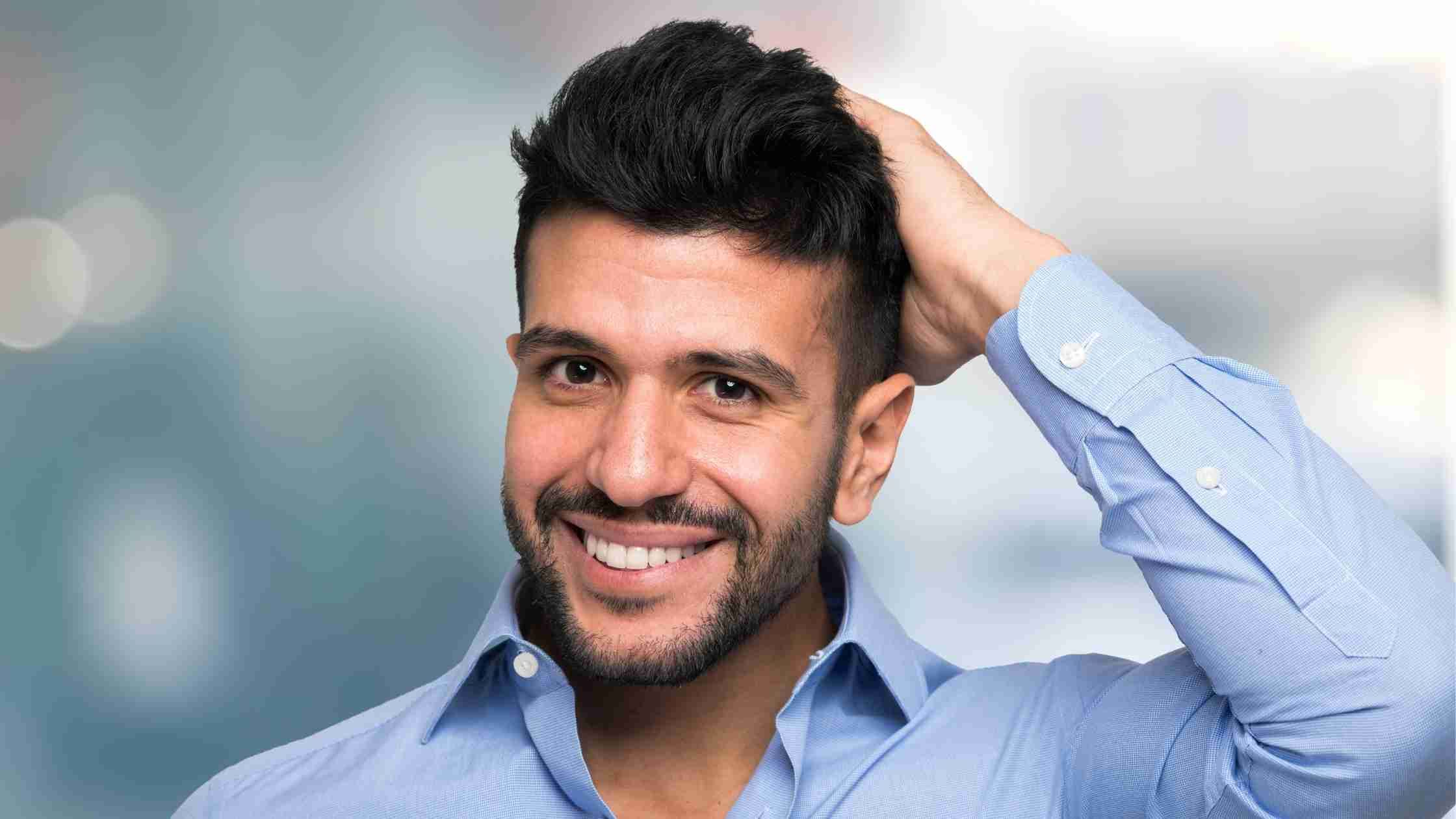 Originally, derma rolling was used by dermatologists as a means of healing scars and rejuvenating the skin. Punctures and micro-incisions can be healed with their skin-enhancing benefits. However, as per studies, it is also believed that they may prevent hair loss and promote hair growth. By improving blood circulation in the scalp and stimulating cell regeneration, it provides a healthier environment for hair to grow well.

Derma rollers for hair growth offer a wide range of benefits for the hair, including:
1. Hair Products are Absorbed Quickly into the Scalp

With the needle going into the skin, the dermal layer of the skin gets a boost of products. With micro-needling, people typically employ the use of different products to treat hair loss, including topical steroids, pellet-rich plasma, and minoxidil.
2. It Helps Massage the Scalp

As per studies, derma rollers cause an increase in blood flow to the scalp, which stimulates hair growth and thickening. This happens because micro needling triggers our own body's natural ability to regenerate collagen and elastin. As a result, we experience hair growth, along with clearer, more radiant skin.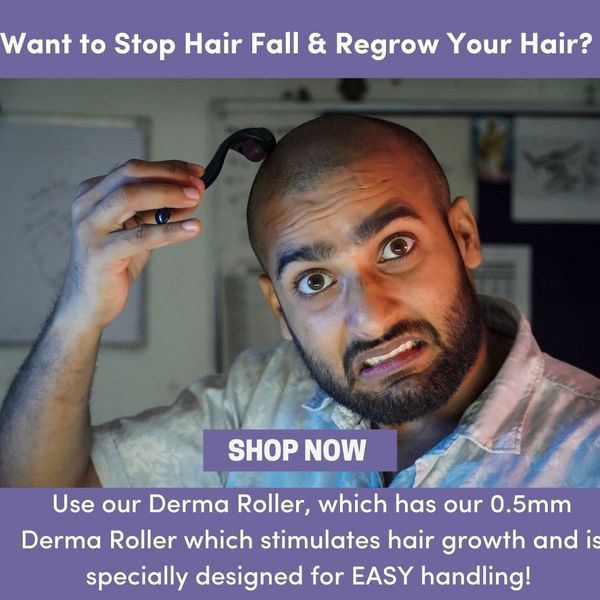 3. Ensures Adequate Oxygen Supply to the Roots

Through micro-needling, blood flow is encouraged within the root area, resulting in a greater capacity for hair growth.
4. Thickens Hair by Stopping Excess Fall

As a result of micro-needling, hair germinates in the anagen phase of hair growth (a phase when hair follicles start to grow). New hair comes out stronger and thicker because of the collagen surrounding hair follicles.
5. Prolongation of Hair Regression

As the hair follicles enter a phase of catagen (a phase of transition when the lower hair follicles start to shrink and hair growth dramatically starts to cease), micro-needling helps prevent hair shedding.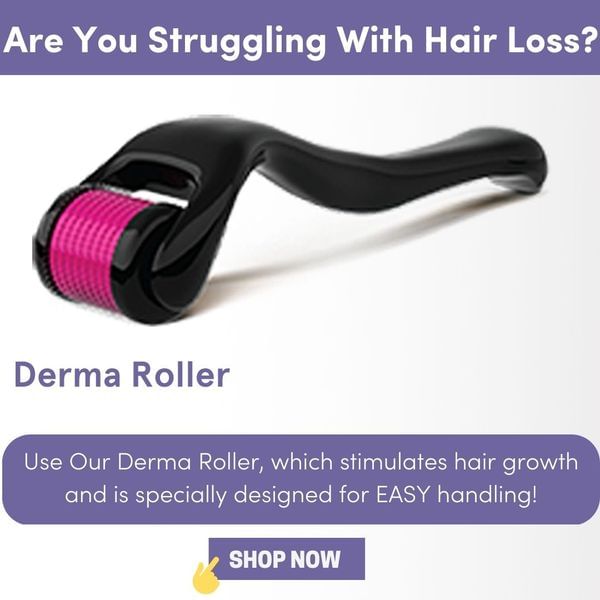 Derma Roller for Hair Loss
Derma roller prevents your hair from falling. A derma roller causes tiny punctures only on our scalp's skin which activates and regenerates hair cells.
Science says that a derma roller, a form of micro-needling, is an effective treatment for hair loss. It boosts collagen production in your scalp, which results in stronger, thicker hair.
To understand the need for stronger, thicker hair for your hair's health and as a solution to prevent hair loss, let us explain to you the hair stages.
Anagen phase of hair growth: It is part of your hair cycle where hair cells divide rapidly and result in new hair growth.
Telogen Phase of hair growth: The telogen phase is part of the hair cycle where your hair begins to fall. Hair fall is caused by hair follicles prematurely entering a resting phase. The derma roller doesn't allow your hair to become nutrient deficient and weak.
You can oil your hair after derma rolling for the best derma roller results.
This prevents hair loss as your scalp absorbs higher nutrients and prevents your hair from shedding in the telogen phase. This way, through a derma roller, you can control your hair loss to the extent that it is within the 50-100 strands of everyday hair loss.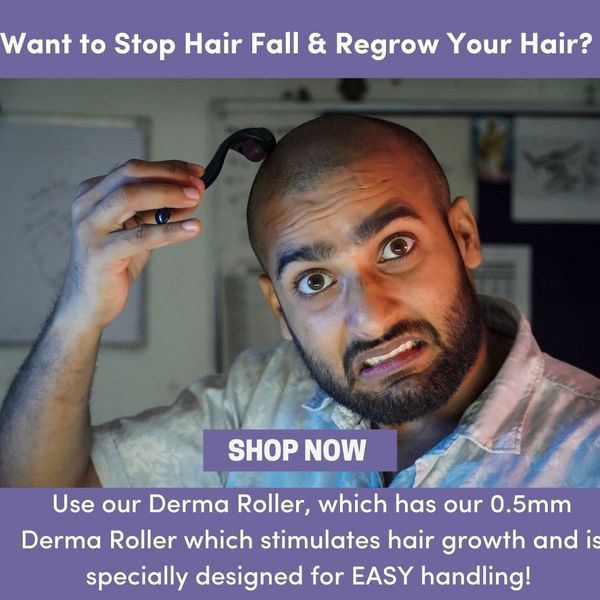 Derma Roller for Hair Growth
Derma rollers for hair growth and hair regrowth can be a blessing.
Derma rollers can massage your scalp and increase the blood flow to your scalp.
Research shows that increased blood flow to the scalp results increases hair growth and thickness. Thus helping with hair regrowth.
This means that not only does your hair grow once you start the derma roller hair treatment, but your hair also grows thicker and stronger.
Increased blood flow to the scalp means that the derma roller is benefitting your hair growth by essentially providing your hair follicles with rich oxygen and nutrient supply so that these strands grow more robust and thicker.
The second way that a derma roller helps with hair growth stimulates collagen production.
Collagen prevents hair thinning and supports new hair growth in the anagen phase of hair growth. Collagen thickens around the hair follicles and ensures that your new hair grows strong.
This helps it resist hair shedding in the hair cycle's catagen phase. Derma rollers are more effective when used with minoxidil. Derma rollers can increase the absorption of topical solutions such as minoxidil.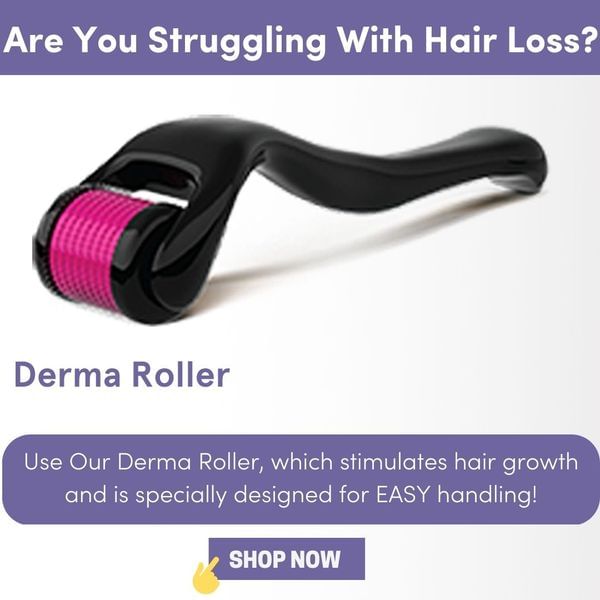 Who Should Use Derma Roller for Hair?
Derma Roller is a solution for those people who are seeking a method to promote hair regrowth. It is usually for people who want to have an at-home hair loss cure. It can be used alone or in combination with other topical treatments, such as hair loss serums, to help in hair regeneration. As per a 2019 study, hair growth increased blood flow and scalp health.
Precaution: Though a derma roller can be used by anyone but before using it, anyone with skin diseases like eczema and psoriasis, or a history of blood clots, should consult a doctor or dermatologist. Also, derma rolling can transmit active acne or warts from one skin area to another.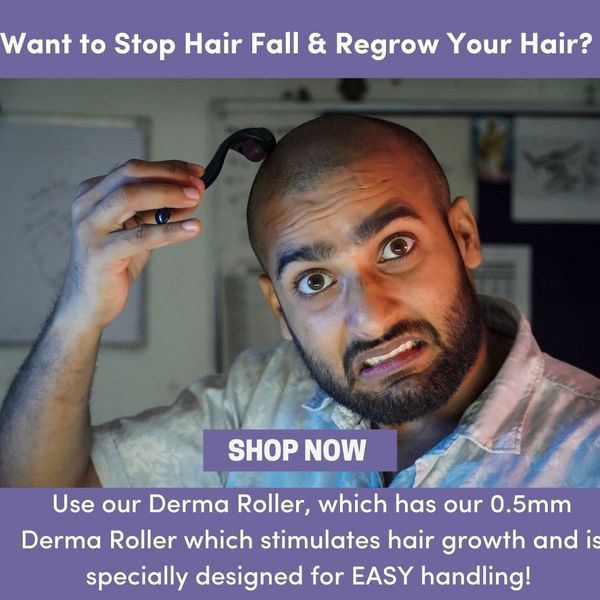 Recommended Alternatives to Derma Rollers
Derma rollers are beneficial in hair development. Most studies look at the effects of micro-needling in conjunction with another medication, such as minoxidil, and there isn't enough information on the usage of derma rollers alone for hair loss.
According to a 2021 study, micro-needling may be more beneficial than minoxidil for increasing hair growth. However, the combination of minoxidil and micro-needling was more effective than micro-needling alone.
Apart from these, there are alternatives to derma rollers such as:
Laser hair therapy
Steroid injections
Prescription medications, like finasteride and spironolactone
Vitamin supplements like Biotin
Scalp massages
Chemical peels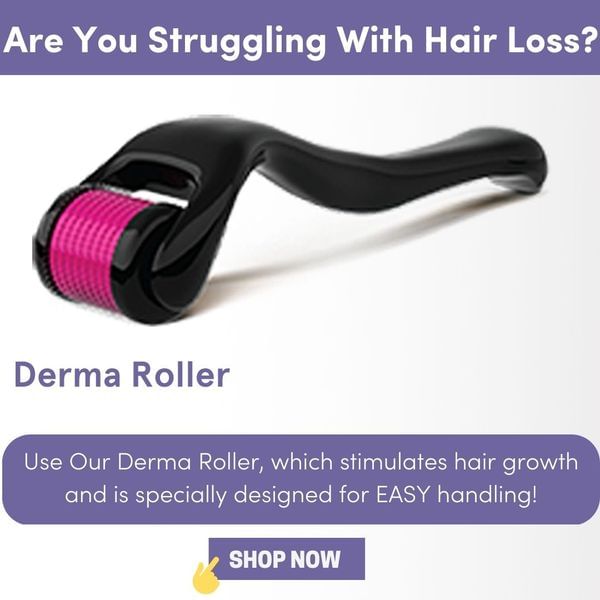 How to Use Derma Roller for Hair?

Perhaps, you're wondering how to use a derma roller for hair now that you have one. Listed below are instructions on how to use derma rollers for hair.

Firstly, there are two ways to get started with micro-needling:
An experienced dermatologist or other qualified professional can do it for you in a professional clinic, especially for the first couple of times, so you get the hang of it, or
It can be done at home, which is a bit more cost-effective and viable.

If you're planning on doing it at home by yourself, these are the directions that you should strictly adhere to.
1. Make Sure Your Derma Roller is Clean
Sterilizing derma rollers and ensuring they are free of bacteria is essential to their efficacy. For optimal results, rub your derma roller with alcohol before using it.
2. Put on a Hair Wash
Cleanse your hair with a shampoo that is mild and effective enough to help eliminate dirt and dead skin cells. Sulfates and parabens can irritate your scalp, so you must avoid shampoos containing them.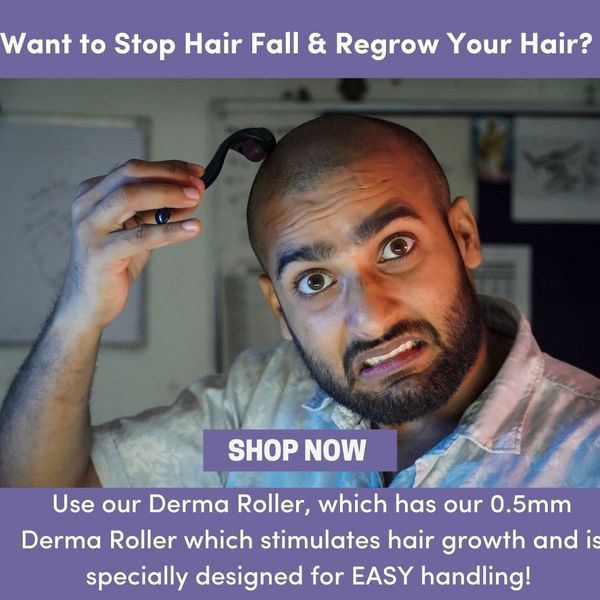 3. Get Your Hair Dry and Brushed
Make sure your hair is dry and detangled properly by using a wide-toothed comb. A derma roller will be able to cover your scalp effectively if your hair is free of knots.
4. Divide Your Hair into Sections and Apply Oil
After dividing your hair into sections, apply hair oil with cotton balls and massage your hair slightly. Ensure your entire scalp is covered systematically so that the technique is as effective for regrowing your hair as possible.
5. Apply Derma Roll and Run It in All Directions
Apply the derma roller on each section of your hair. Roll three to four times across all directions: three times horizontally, three times vertically, diagonally, and so forth. Continue in this manner until you have covered all the areas you desire.
6. Oil Your Hair for Ease
Make sure you oil your scalp carefully. Keep the oil at room temperature rather than heating it to prevent increased scalp inflammation. Massaging the oil into your scalp is an effective way to increase absorption and also feel good.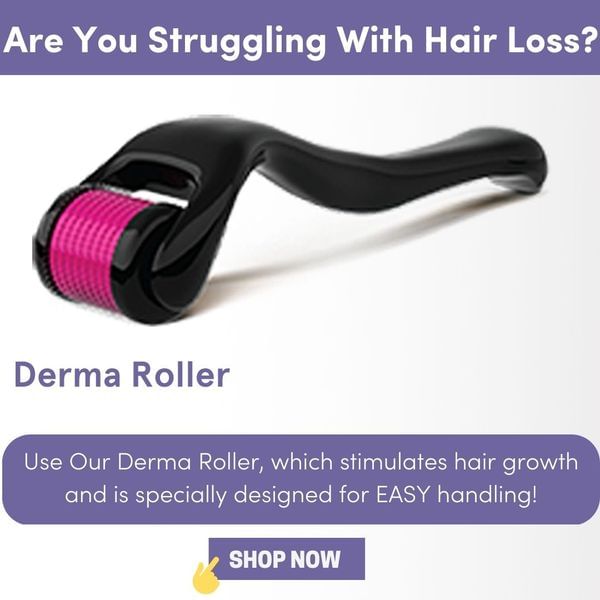 7. Sanitize the Derma Roller for Every Use
Upon completion of each session, the derma roller needs to be sanitized and disinfected. As it makes micro-punctures in the skin, it becomes a necessary ritual. An infection can occur if it's not properly cleaned.
8. If Necessary, Replace
Generally, derma rollers only last two months, after which they need to be replaced. Nothing can be more harmful to your hair than using an expired or worn-out appliance, as it is dangerous and can cause irreparable damage.
How Often to Use Derma Roller for Hair Growth?

Derma roller for hair should not be used daily due to the risks associated with the procedure. You should start by doing it once a week, see how your body responds, and then increase it to twice a week when required. The best way to achieve the most effective results with derma rolling is to do it only once per problem area in a single session. However, a micro-needling session every three weeks or once a week is sufficient to stimulate regrowth in most cases.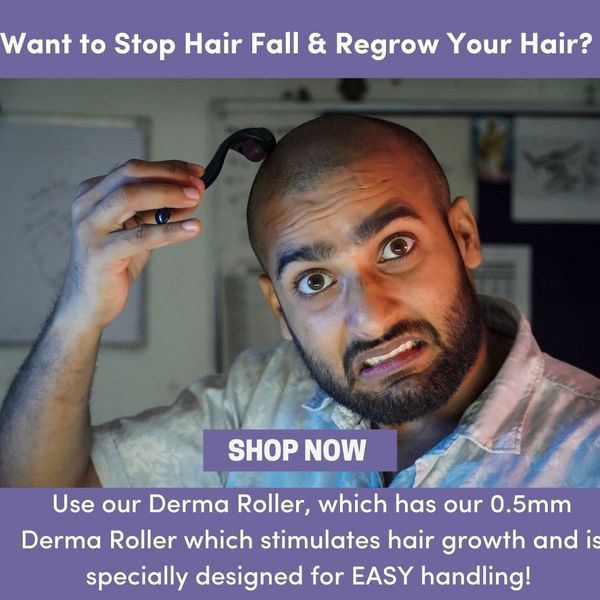 Which is the Best Derma Roller for Hair?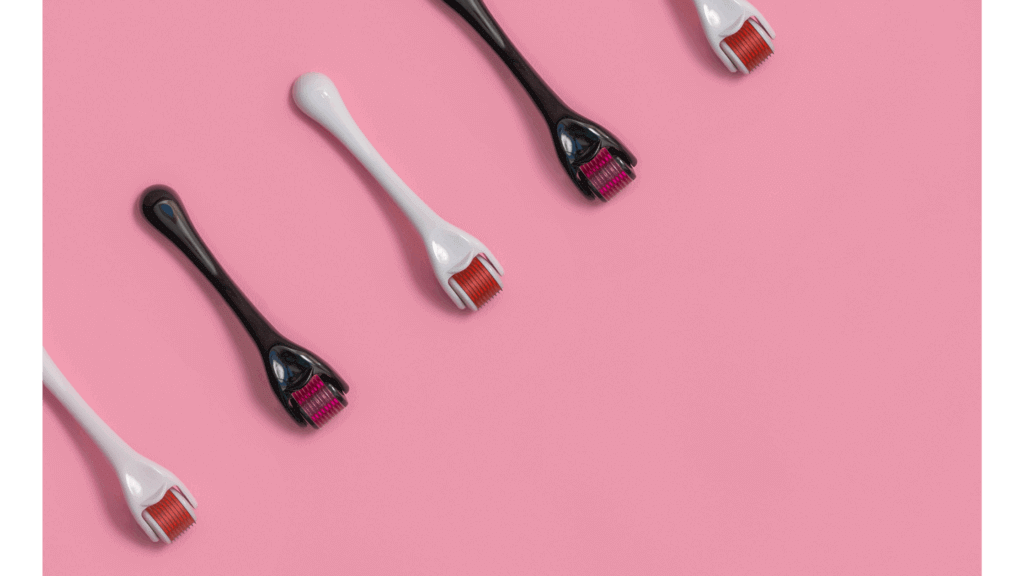 Online derma roller reviews will tell you about a lot of brands. These derma rollers for men reviews are often confusing and can overwhelm an individual to the extent that they do not act upon their hair loss.
Here are some tips for choosing the best derma roller for hair for yourself:
Keep in mind the needle size of the derma roller.
Needles between 0.225-0.5mm have the best effect on your hair. These microneedles activate your hair growth by puncturing your scalp as much as needed to prevent hair loss and activate hair growth.
Look out for a derma roller with a curved handle to fit your hand.
This helps you get a better grip and helps you put the exact amount of pressure to ensure that the derma roller works.
Look at what the needles are made of.
Derma rollers are an effective hair treatment for hair loss when the needles are designed to solve it. Using titanium alloy microneedles is the most efficient. These needles are designed to pierce your scalp just deep enough to make punctures that prevent hair fall.
Clean your Derma Roller Properly
While this is something, we often overlook, keep in mind that the best derma roller for hair growth will only work when it is clean. Here is a guide on the easiest way to clean your derma roller.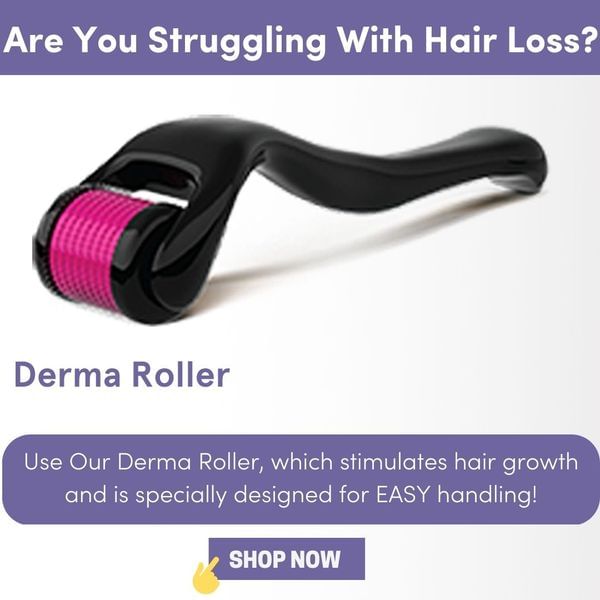 Pro Tip: You can use a derma roller 0.5 mm for hair loss.
Dermaroller At-Home Treatment

If you aren't experienced in micro-needling, a visit to the clinic will provide better results, but over time, the cost of visits will add up and make this option unviable for most men.

Therefore, many people use derma rollers at home instead of going to a clinic due to the low costs and lack of commitment. A home session costs about 1/3rd as much as a clinic session, making at-home procedures more feasible for most individuals. But how effective can at-home treatments be?

While derma roller treatments can be performed at home, there are significant downsides that should be considered:
Lack of knowledge about the right needle size
Lack of vision of certain parts of your scalp, for instance, the back of your head
Lack of experience in targeting the desired areas as effectively as professionals
Lack of idea about how to use the roller properly
Lack of certainty in establishing a stopping point
Lack of knowledge of how much pressure to apply and how to properly roll the roller
Lack of adjuvant therapies available to providers, such as platelet-rich plasma, may prevent results from being seen

Compared with professional treatment, these factors can reduce the effectiveness of your therapy. In addition, a licensed microneedle physician can assist you in minimizing side effects. You may have trouble assessing the risks and treating any side effects yourself, which may force you to seek treatment from a healthcare provider anyway.

You may be tempted to purchase your derma roller, but it is more prudent to trust your hair loss treatment to a professional with specialized training and experience. Having a micro needler who isn't properly trained or doing it yourself at home is strongly discouraged by dermatologists.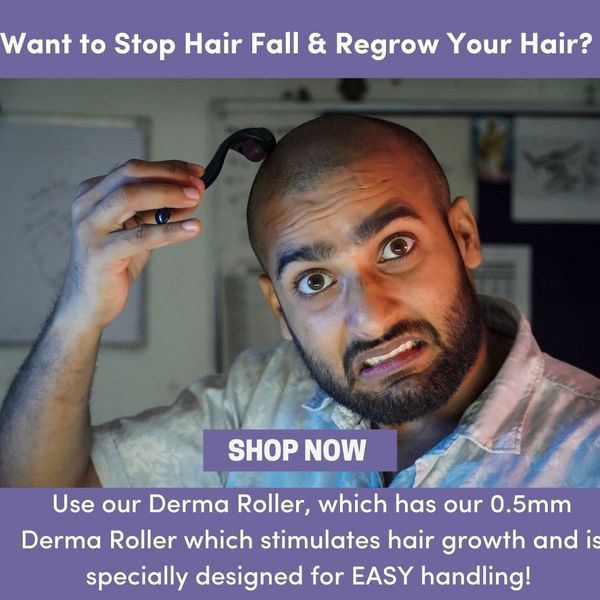 How to Avoid Infections and Injuries?

There is the potential for some side effects after using a derma roller. One of the most serious risks associated with dermarolling is infection. However, it can be avoided if you abide by the following guidelines:
To sterilise the derma roller, it is recommended to soak it in 70% or more isopropyl alcohol before each use and after.
Don't use it on wet hair, and let it completely dry before using it.
Cotton balls are ideal for applying oils and topicals to your scalp. But never use them on the derma roller.
In the event that you drop or damage the derma roller in any way, you should throw it away. Bent needles may be harmful to your skin.
You should replace a worn-out derma roller every two months.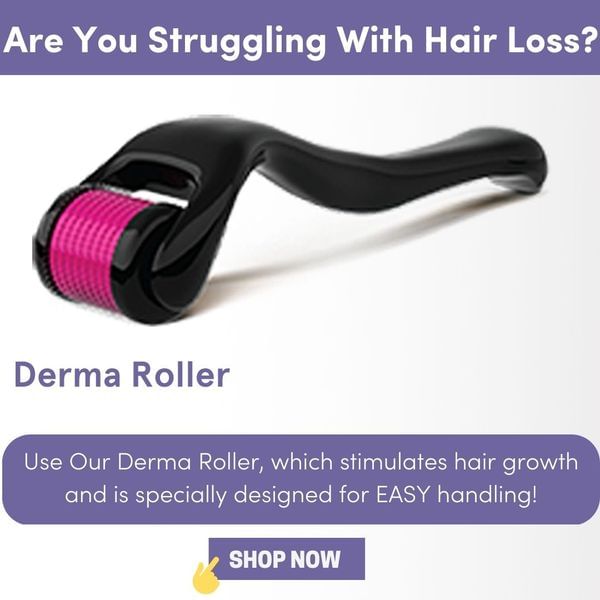 What Oils Are Best to Use With Derma Roller?

Though the derma roller is a great hair activator, there is more to it than just the appliance. Oils and topicals play an important role.

Derma rolling and oiling afterwards ensures that at least 80% of the nutrients of the oil are absorbed by your skin, instead of the less than 7-10% you receive when it is applied to your skin regularly.

However, the best way to care for your hair is to know what works for you in terms of nourishment, as well as what you should steer clear of if you have sensitive skin and hair. Your hair needs to be massaged with an oil-free of toxic ingredients that will irritate your scalp after derma rolling.

If you're interested in getting the most out of your derma roller for hair growth, here are some of the oils you need to use.
1. Coconut Oil
Among the most popular oils used for hair growth and nourishment, coconut oil is rich in antioxidants, fats, and vitamins. In addition to calming frizziness, it can help eliminate dandruff and split ends.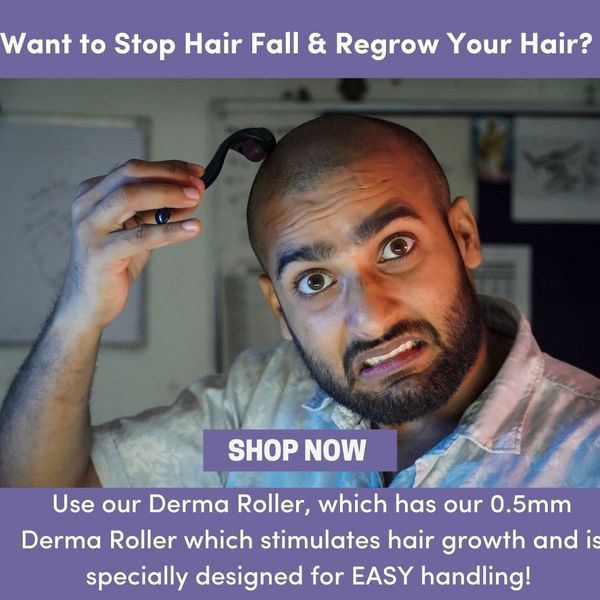 Ultimately, coconut oil combines all the benefits you might need to get rid of almost any hair problem and when used in conjunction with a derma roller, will help make sure your hair grows faster and stronger.
2. Rosemary Oil
Unlike heavier hair oils, rosemary oil leaves no greasy residue and regulates scalp sebum production. In addition to preventing premature greying, it also increases hair circulation, promoting faster and thicker hair growth.

Furthermore, it contains antifungal and soothing properties, which are helpful for itchy skin. It is yet another essential oil that can be great to use with a derma roller.
3. Lavender Oil
Hair and scalp benefit greatly from lavender oil, an excellent antifungal and antibacterial oil. Aside from preventing itchy scalps, it also prevents lice, fungus, and dandruff of the scalp, thereby improving the health and growth of your hair.

With the use of a derma roller, the hair grows faster and more effectively, as it also treats patches of baldness and bald spots.
4. Peppermint Oil
Peppermint oil has a cooling effect on an itchy and sweaty scalp. Furthermore, it has antibacterial properties that thoroughly cleanse the scalp of grease and buildup and kill all microorganisms.

Opening up clogged pores also allow the skin to breathe, and, when used in conjunction with a derma roller, you will notice improved penetration of the oil into the scalp.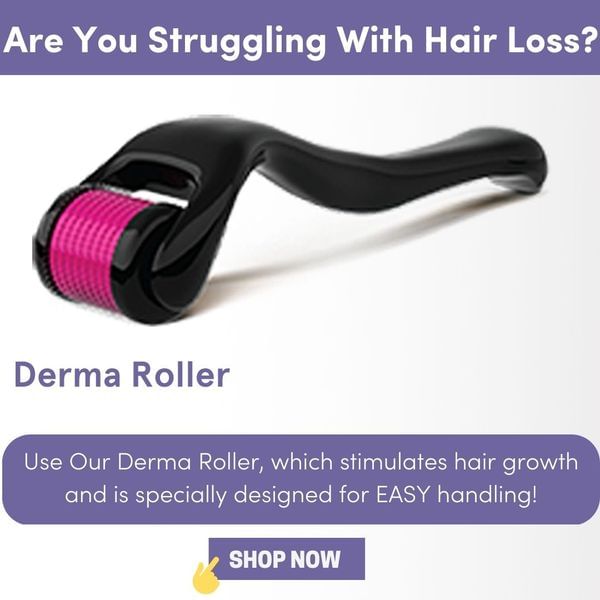 Derma Roller Side Effects for Hair

It is often wondered what could go wrong with derma rolling. The following risks or side effects may occur when derma rolling:
When you go too deep, you may damage the hair at its roots.
Hair is cut off when the derma roller is inserted, resulting in thinning of hair.
The shedding of hair can be caused by an inflammatory reaction.
If you cause an injury to your skin, you are at risk of infection.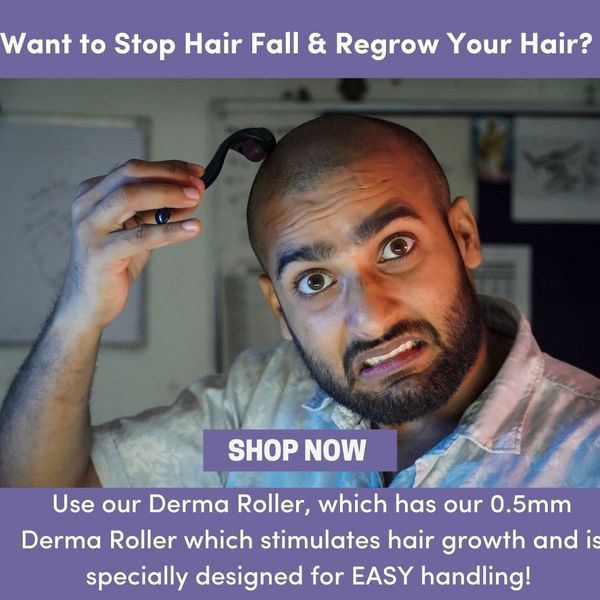 When to See a Doctor?
People usually use derma rollers for massaging the scalp, preventing hair thinning, helping hair products get absorbed into the scalp, hair regression, hair loss, and much more.
The average person loses 50 to 100 strands of hair every day. This may probably be a lot, but it falls short in contrast to your head's 100,000 hair follicles. If you notice that you're losing more hair than usual, consult your doctor, especially if the hair loss is accompanied by other symptoms such as fatigue, worry, itching, and mood problems.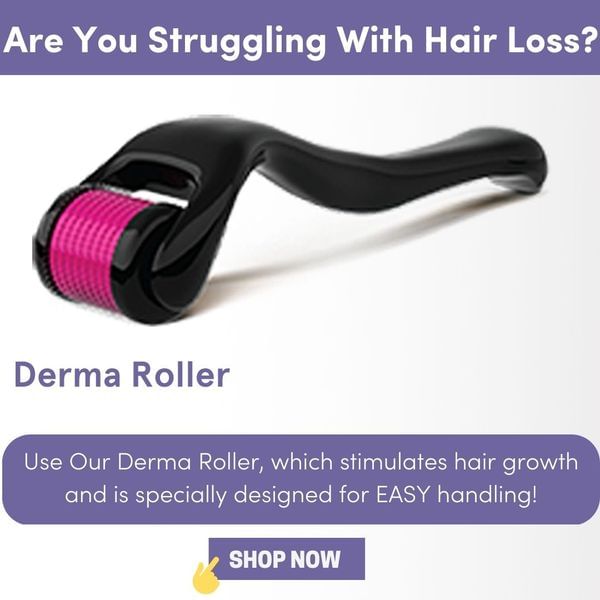 Summing Up on Derma Roller for Hair

Activating hair with derma rollers is a great solution for people with thinning hair. Although it isn't very complicated, it does demand a lot of patience. Eventually, you will notice that your hair will get stronger and thicker over time.

If you have any existing medical condition, it is better to seek advice from a medical professional before trying out anything. If you face any complications while or after using the derma roller, immediately consult a medical professional.
FAQ
Is Derma Roller Effective for Hair Growth?
The answer is yes, derma roller is a great hair growth stimulator. Results are usually seen within eight to ten weeks for most people. The most effective way to achieve the best results is to follow the instructions consistently. During the treatment process, you must remain patient.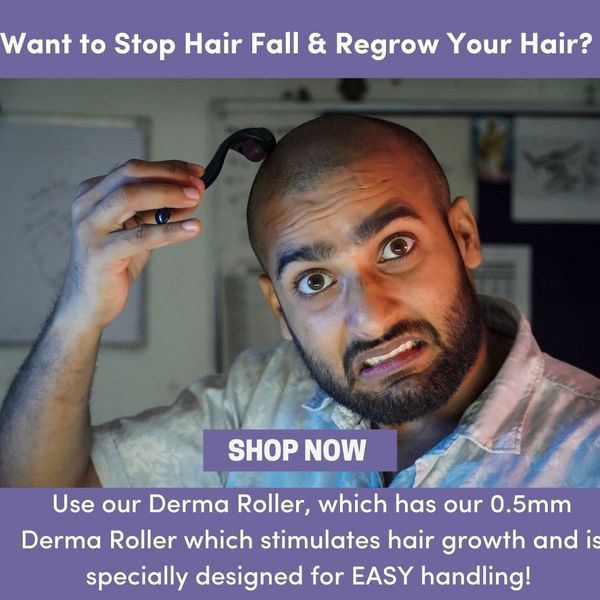 Does Dermaroller Cause Hair Loss?
When you begin to use a derma roller, you can cut off your hair if you choose. In the beginning, hair may appear thin, but eventually, it will begin to grow back.
Can I Shampoo After Dermarolling?
Yes, It's okay to shampoo after dermarolling. It is best to wash your scalp after dermarolling with a mild shampoo, and you should follow this regimen for at least six months.
Can I Use Derma Roller on Wet Hair?
No, derma roller should not be used on wet hair because it might result in infection. This may cause an open sore, susceptible to infection.
Which Derma Roller Size is Best for Hair?
Doctors recommend derma roller for hair growth, having needles between 0.5-1.5 millimeters. To tackle hair loss, you can use a derma roller 0.5 mm. Derma roller 1.5 mm helps with stimulating hair growth as it can cause punctures that allow topical and hair oil to penetrate through the scalp better. Tip: Use castor oil after derma rolling your hair.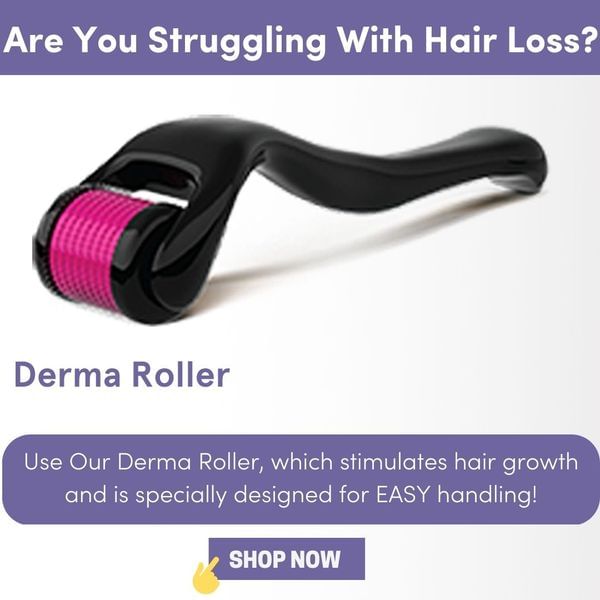 Does Derma Roller Regrow Hairline?
Yes, the derma roller for hair regrowth helps regain hairline and other kinds of hair loss except for telogen effluvium. The tiny punctures due to derma rolling your scalp activates hair cells and help in regeneration. It further induces collagen production in the scalp, helping in stronger hair growth. This is doctor recommended.
How Often Should you use Derma Roller for Hair Regrowth?
Doctors recommend using derma rollers for hair regrowth every 3-4 weeks because you need to give time for the cells to activate and regenerate. It's suggested to use a 1.5mm derma roller for hair growth as they have longer needles and penetrate deeper for the cells to activate and help with collagen production in the scalp.
Can I use 0.5 mm Derma Roller Everyday?
No, use 0.5 mm derma roller for hair once every three weeks for best results. You use a derma roller of 0.5 mm for hair loss, and it's best to give the cells time to activate and regenerate. However, you can use a 0.2-0.25mm derma roller for hair everyday or every alternate day.
How Long Does it Take to See Derma Roller Results for Hair?
In most cases of using a derma roller for hair growth, men have reported seeing a difference in their hairline within 8-10 weeks. However, it is crucial to understand that derma rolling for hair needs to be integrated and used continuously to get maximum benefits. Patience and regular usage are essential to fighting hair loss using a derma roller for men.
What Are the Pros and Cons of a Derma Roller?
Some of the best advantages of derma rolling are that it is affordable for all, is easy to use, can be used at home, tackles hair loss, and has been proven to help reduce hair fall and improve hair quality. While some disadvantages of the same are that it may cause some side effects, can irritate the skin, and cause pain or discomfort. Also, it becomes hard to determine the needle size to be used.
Is Derma Rolling Safe for Your Hair?
Derma rolling may seem unpleasant, but there is some evidence that it can boost the efficiency of more typical hair loss treatments—and it's reasonably safe if done correctly.
What Are the Uses of Derma Roller for Hair?
Derma rollers are used for many purposes, such as promoting hair regrowth, helping prevent hair fall, massaging the scalps, addressing pigmentation disorders, enhancing the skin's surface, etc.
Do Beard Rollers Work?
Yes, beard rollers do work. It promotes natural collagen creation, keratin development, and the activation of stem-cell growth factors, which are all associated with beard growth.
References