Can dandruff cause hair fall is a very commonly posed question.
Do you face heavy hair fall due to dandruff?
In fact, did you ever wonder, can dandruff cause hair loss?
As per research, It is normal to lose up to 100 strands of hair each day.
However, if your flaky scalp is troubling you and you see more hair on your comb than usual, dandruff may be the culprit. Dandruff is one of the significant causes of hair fall in men and women.
Dandruff is a skin condition that affects the scalp and causes flaking and mild itching. It can range from mild to severe. Dandruff, as a condition, is harmless but can be embarrassing and cause social or self-esteem problems. It can occur for a variety of reasons. Dandruff can result from you not washing your hair regularly, or it could also be a medical condition like seborrheic dermatitis.
Does Dandruff Cause Hair Fall?
One of the common questions related to dandruff is does dandruff cause hair loss? Does dandruff lead to hair loss? Does dandruff cause baldness? Dandruff, as we know, affects the scalp, while hair fall affects hair follicles. These are two different conditions. However, there is a link between them. The answer to whether or not dandruff is the reason for hair fall is not a simple yes or no. Dandruff does not directly result in hair loss, but some of the conditions that lead to dandruff on the scalp can also result in hair fall.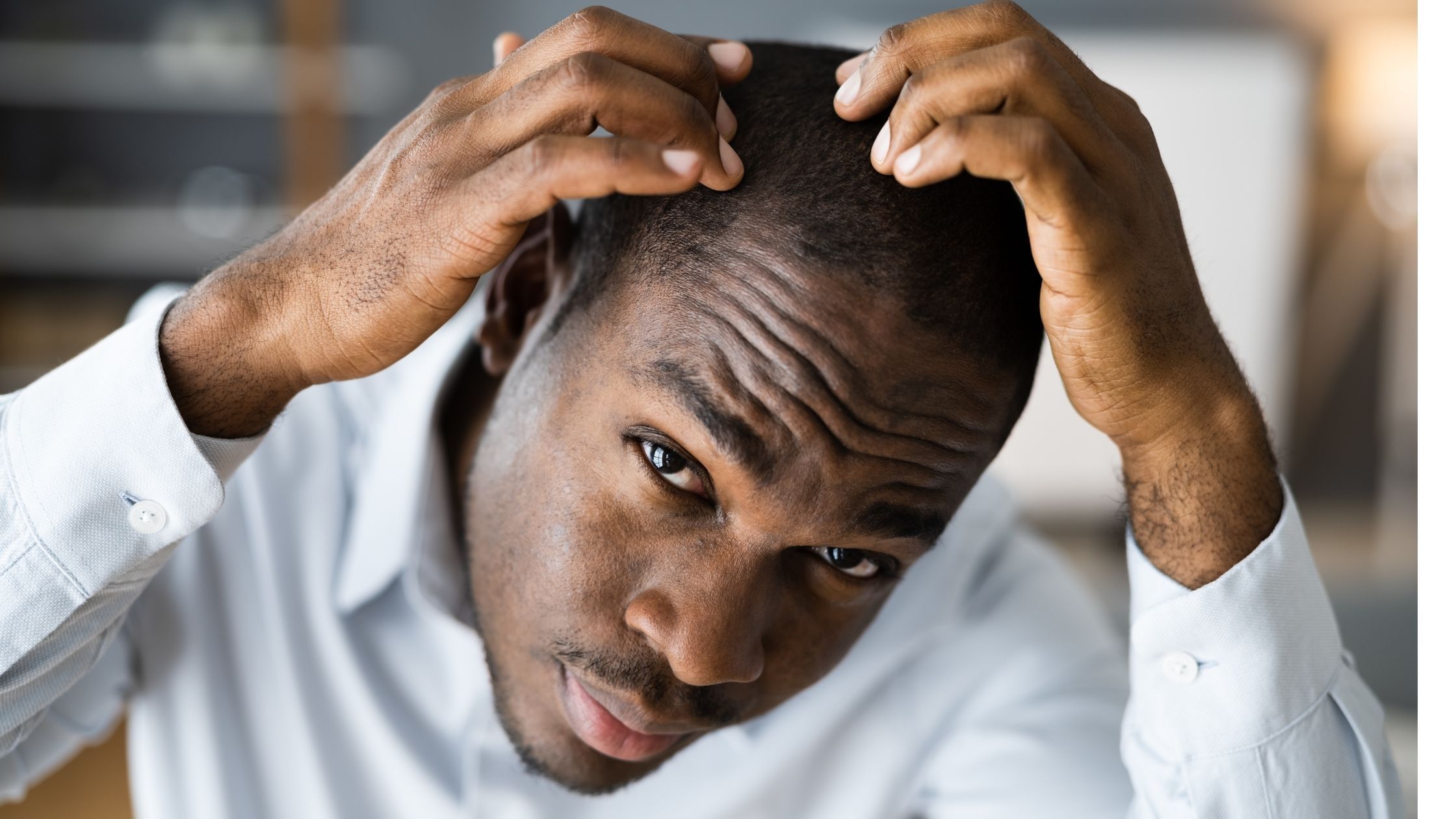 How Does Dandruff Cause Hair Fall?
Does hair fall happen because of dandruff? Is dandruff a reason for hair fall? How are dandruff and hair fall related?Many men still believe that dandruff causes hair fall. As mentioned above, dandruff alone does not cause hair fall, but some conditions that cause dandruff also cause hair to fall. According to a study in the Indian Journal of Dermatology, people suffering from dandruff experience a significantly higher hair fall rate (around 100-300 strands) than regular 50-100 strands. The study also noted that dandruff could worsen androgenetic alopecia- the condition that causes male pattern hair loss, making it one of the causes of hair fall.
What is Seborrheic Dermatitis? Does it cause hair fall?
Seborrheic Dermatitis, also known as seborrheic eczema, is an extremely common dandruff-related skin condition resulting in hair fall. It is a condition that most often affects the scalp but can also occur in the body's oily areas. Can Seborrheic Dermatitis hair loss be resolved? The hair fall caused by this condition is temporary and can be reversed once the condition is treated. One of the most common ways to treat it is with a good anti-dandruff shampoo. You might need to use many shampoos before finding the right one that would help you get rid of this condition. Also try sulfate free shampoos for stronger hair.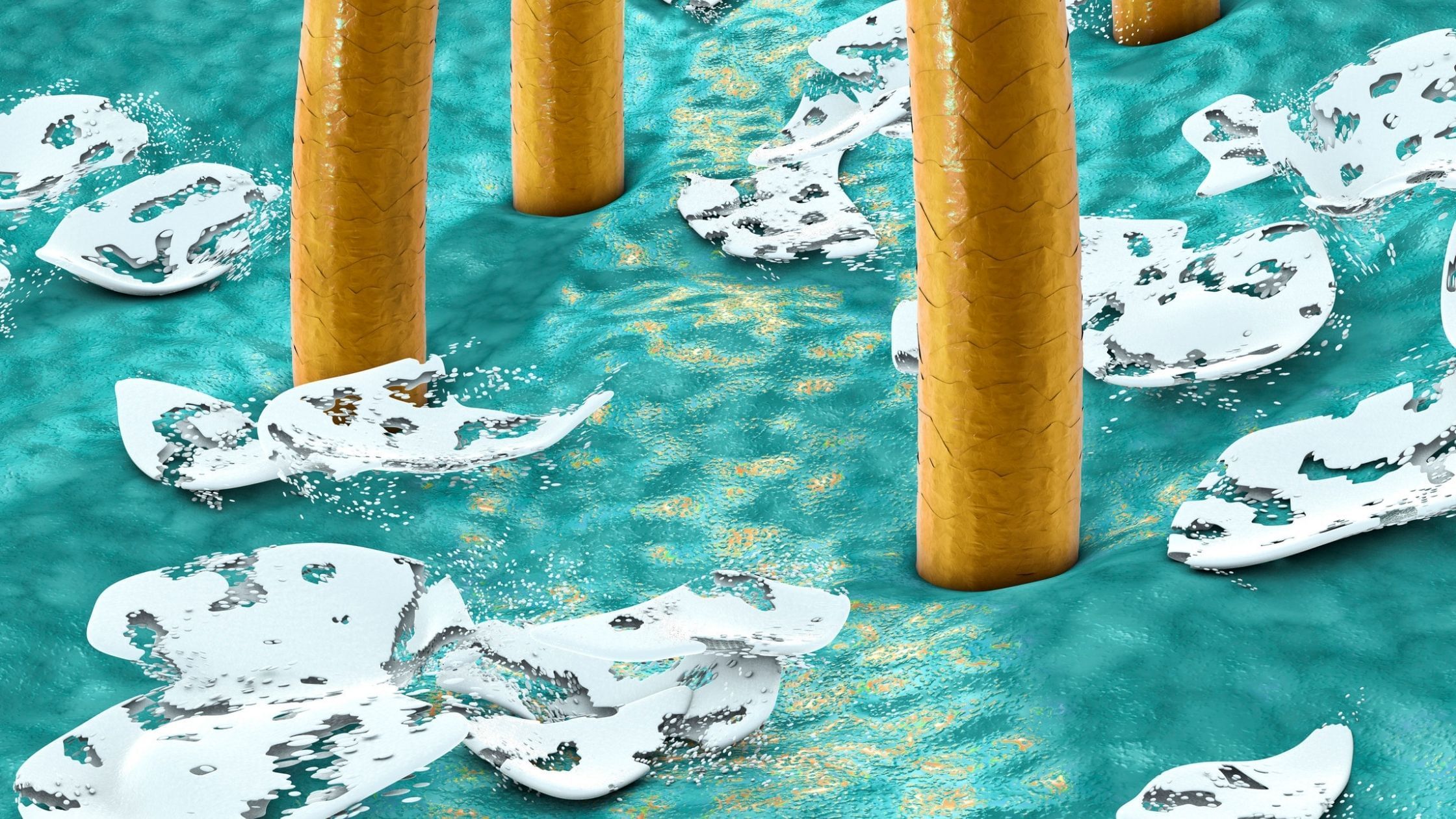 Dandruff can damage hair follicles
People suffering from dandruff are often prone to scratching their heads, damaging hair follicles, and resulting in hair fall. Even though dandruff only affects the scalp, scratching can weaken hair follicles, break roots, and cause further hair fall. Two significant symptoms attached to dandruff are irritation and inflammation, and both weaken hair follicles resulting in hair fall.
So how to stop dandruff and hair fall? Hair fall-related to dandruff is temporary, and you need to get rid of dandruff to stop it. One of the best ways to eliminate your existing dandruff problem is to use a good quality zinc-infused, anti-dandruff shampoo. There are many shampoos available in the market that claim to treat dandruff. You can also consult a dermatologist and use the shampoo suggested by them. Treating dandruff would put a stop to your dandruff-related hair fall. Also try Ketoconazole for your hair
Dandruff, a seemingly harmless condition, can lead to hair fall and other hair-related issues. It is best not to ignore it and get it treated as soon as possible.
Also Read: The 25 ways of preventing hair loss
FAQs
Is hair loss due to dandruff temporary or permanent?
Hair loss due to dandruff is temporary, not permanent. Once you have treated your dandruff, your hair follicles are restored, and hair regrowth happens. Moreover, note that several scalp conditions are often mistaken for dandruff. Try these home remedies for dandruff, and you can even get rid of dandruff and itchy scalp within a month.
What is the root cause of dandruff?
How does dandruff occur? Dandruff occurs due to many reasons but a chief cause is a condition called Seborrheic dermatitis. This is a more acute form of dandruff. It results from not shampooing your hair enough. This causes skin cells to accumulate on your scalp, causing an itch.
Other reasons for dandruff include hormonal imbalances during puberty, poor hygiene levels of the scalp, sensitivity to hair care products, and prior skin conditions such as eczema and the like.
Can a dry scalp cause hair loss?
No, dry scalp necessarily doesn't mean hair loss. Having an itchy scalp or dandruff immediately isn't the cause of hair fall. However, your scalp's constant scratching can damage the hair follicles and cause hair loss.
Also Read: Does chlorine cause hair loss?
What are the causes of dandruff affect hair?
There are several causes of dandruff that, in turn, can affect hair. The causes of dandruff may include not shampooing regularly, oily and irritated skin, A fungus development called Malassezia, which feeds on oils on the scalps, dry skin, skin conditions like eczema, or sensitivity to hair care products.
References