Beards appear to be in style everywhere you see, and a range of treatments, including conditioners, lotions, and oils, are readily available to promote the trend. Apart from the fact that it's fashionable, there are several reasons one may decide to grow a beard instead of shaving. Some people might enjoy the way it visually reshapes their faces. Others may grow a beard for no reason other than finding it tedious and bothersome to shave daily.

Whatever the reason, not everyone can grow a full and even beard. Having a patchy beard may make the person self-conscious and shave away confidence. One of the most sought-after remedies for this is minoxidil, a hair growth solution. Minoxidil is said to stimulate hair follicles.
What Is Minoxidil?

Minoxidil is a Food and Drug Administration (FDA) approved, over-the-counter remedy for treating hair loss. It comes in either foam or serum form and is effective for regrowing hair. Minoxidil helps treat thinning of hair and balding on the scalp and enhance beard growth. It may revive and increase the size of your hair follicles, which may improve the natural growth of thicker hair.

Minoxidil was first launched in 1987 under the Rogaine brand. This is the most popular and recommended brand for minoxidil even now. You may also get a similar product from companies such as Kirkland, Basic Care, and Nioxin at reasonably lower prices.

Earlier, it was only given on prescription. However, currently, it is also available without a prescription. But it is highly recommended to use it only after consulting a doctor.
How Does Minoxidil Work?
Minoxidil accelerates the flow of oxygen, blood, and nutrients to the hair follicles or hair cells to make them stronger. That's why it slows down or decreases the balding process and accelerates hair growth.

Minoxidil is formulated so that if it is used as a vasodilator (medication that opens blood vessels), it works to open adenosine triphosphate (ATP)-sensitive potassium channels in vascular smooth muscle cells. This vasodilation may also help in enhancing the viability of hair cells.

Follow the below-mentioned steps on how to use minoxidil for faster beard growth:

Take 20 drops of topical minoxidil lotion or solution.
Wash, clean, and dry your face. You can also use a pH-balanced cleanser to clean your face to avoid irritation.
Apply the prescribed quantity of minoxidil to your beard.
Apply the lotion twice daily for a minimum of 16 weeks to experience results.

Keep the following precautions in mind while applying minoxidil on the beard:

Apply it on dry skin or hair.
Avoid getting your skin or hair wet after applying the solution.
Make sure it completely dries or is absorbed into your skin before styling the beard, going to bed, or applying any lotion or sunscreen.
Wash your hands after applying the solution.
Do not apply it on red skin, scraped, cut, or infected.
Always read all the instructions on the packaging carefully.
Keep minoxidil away from your eyes. If it gets in your eyes, rinse them immediately. If you experience irritation or any other problem in your eyes, visit a doctor as soon as possible to avoid damage.
Keep the solution safely out of your children's reach and pets because they might swallow it accidentally.
It is also highly flammable. So keep it in a dry and cold place, away from direct sunlight.

It is crucial to follow instructions to get optimum results. However, the directions and instructions may vary between brands and the concentration of minoxidil solution.

You can also take pictures to see minoxidil before and after effects on the beard. It will help you notice and verify whether there's been any growth. Results may vary as skin type and the hair growth cycle is different in men.
Minoxidil for Beard Growth
Before getting into the functioning of minoxidil, we must understand how the hair growth cycle works, as described below:

Hair follicles have protein-based cells, and these cells transform into hairs. This is the first anagen phase.
In the second anagen phase, blood vessels around hair follicles help hair grow progressively longer.
Now, the catagen phase begins. Hair, when it comes out of the skin, gets lubricated by an oil gland in your skin. Eventually, in this stage, your hair stops growing.
After some time, the hair falls out of the follicle, and a new hair growth cycle starts. This stage in which hair is falling out is known as the telogen phase.

The scalp hair growth cycle takes years. However, for the beard, face and eyebrows, and other hairs on your body, the growth cycle lasts a maximum of 1-2 months. Minoxidil's primary function is vasodilation, i.e., expanding blood vessels to strengthen the follicles. This slows down the falling of hair.

As the blood vessels in your face are larger than those in your scalp, it is claimed that minoxidil may work wonders for the beard. So men experiencing beard hair loss or thinning of beard may use minoxidil for beard growth. It can also be used for mustache growth but must be used with caution and on the advice of a doctor or dermatologist.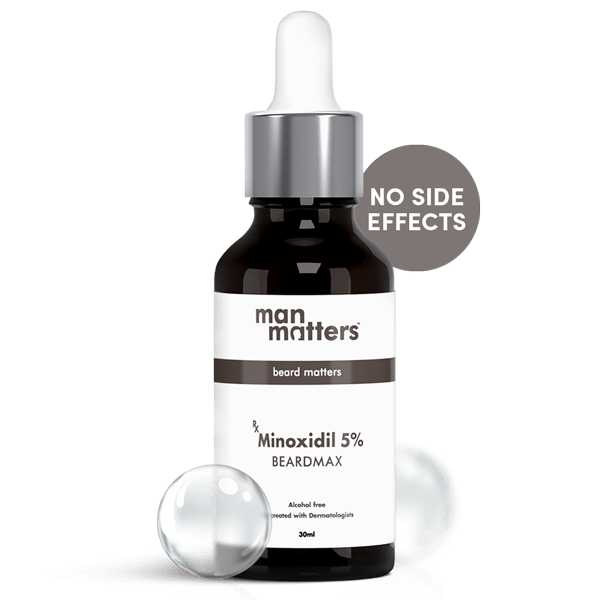 BeardMax 5% Minoxidil Beard Growth Serum
Give your beard development process a boost with our Minoxidil Beard Growth Serum which promotes denser beard and moustache growth within 100 days & has no side effects!
Who Can Use Minoxidil?
Anyone above 18 years can use minoxidil for beard growth. It is effective for men under 40 years of age with recent hair loss. Before starting to use it, consult a medical professional if:
You are taking medications to control high blood pressure because minoxidil may interact with certain drugs such as guanethidine, disulfiram, metronidazole, etc.
You have a tumor, specifically, pheochromocytoma.
You have suffered or have organ damage.
You are suffering from a heart problem such as tachycardia.
You had or experienced heart failure, heart attack, or stroke.
You have or are living with a kidney or liver disease.

Avoid using it if you're 18 or below in age. It is also not to be used:
For sudden or unexplained hair loss.
If your hair loss is hereditary.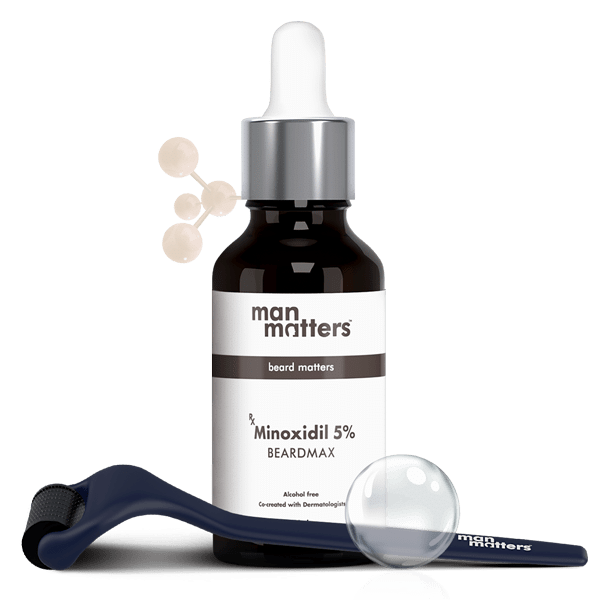 BeardMax 5% Minoxidil & Activator+ For Beard
Do you want a denser and thicker beard? Use our 5% Minoxidil Beard Growth Serum & Activator+ which boosts the beard development process, resulting in a less patchy, denser and thicker beard.
Minoxidil for Beard Results
There is not a lot of evidence to support the effectiveness of using minoxidil for face hair. A team of researchers from the Department of Dermatology, School of Anti-aging and Regenerative Medicine at Mae Fah Luang University Hospital in Bangkok, Thailand, surveyed and inspected the use of minoxidil on the face. They were looking for an answer to whether minoxidil can safely stimulate beard hair growth.

They published their findings in the form of a letter, "Efficacy and safety of minoxidil 3% lotion for beard enhancement: A randomized, double-masked, placebo-controlled study," to the editor of the Japanese Dermatological Association's Dermatology journal.

The team concluded that only 3 percent minoxidil lotion is safe and effective to be applied on the face for beard hair growth and enhancement. The side effects were mild, and in comparison to the placebo, minoxidil is effective for accelerating the growth of the beard.

Another study on "Minoxidil 2% lotion for eyebrow enhancement" claims that, other than scalp hair, minoxidil is effective for enhancing eyebrow hair. However, eyebrow hair and beard hair are different. Only 2% of topical minoxidil lotion is safe and effective for eyebrow hair growth.
How Long Does It Take to See a Fuller Beard?
There is not any specific period in which you will see or experience fuller beard growth. The hair growth process takes time, and you need to be patient. You might experience some beard growth within four to six months. This period may extend up to 1 year.

With consistent and regular users of minoxidil, you may see fuller beard growth within 2 to 7 years.
Things You Should Know Before Using Minoxidil for Beard Growth
Many men have started using minoxidil for their beard growth. So its demand has drastically increased in recent years. However, before using minoxidil, you should keep the below-mentioned points in mind:
1. Not Approved for Using on Face

The FDA does not yet approve applying on the face for beard growth. It's only been tested and authorized to treat hair loss on the vertex, a specific part of the scalp at the top of the head. Only 2-5 percent of minoxidil solution is safe and effective for treating hair loss or baldness in men.
2. Minoxidil is Effective While It is Used

Minoxidil, if used as prescribed, can result in beard growth but only works till you use it. Once you stop applying it, your hair returns to its previous state. Any hair stimulation that occurred while using it would end, and hair that grew could fall out.
3. Opinion of Johnson & Johnson

Johnson & Johnson acquired Rogaine in 2000. A team from Arocha Hair Restoration & Transplant Center reached out to them for their opinion on the use of minoxidil on the face. They believe that this drug should not be used on the face. Their advice limits the application to the vertex of the scalp for preventing hair loss.
Summing Up on Minoxidil for Beard
There is not any strong evidence to prove or disprove the effectiveness of applying minoxidil on the face for beard growth. Only a single study indicated that it might enhance beard hair and that too with only 3 percent solution.

However, you must take the advice of your dermatologist before using minoxidil for beard growth.
FAQs
Is Minoxidil Effective for Beard Growth?

According to recent studies published in the Journal of Dermatology, a lotion with 3% minoxidil performed just a little bit better than a placebo. That's encouraging, but scientifically speaking, one study isn't sufficient to establish that it consistently works.

The only other study that suggested Rogaine might be effective for hair growth on areas other than the scalp focused on minoxidil. This 2014 study showed that minoxidil was substantially more effective than a placebo.
How Long Does Minoxidil Take for Beard?

You need to be a little patient in your daily beard regimen while using minoxidil to help grow your beard. If it works for you, it can take a while before you start to notice any new growth. At least 4-6 months should pass before evaluating the results.
Which Minoxidil Is Best for Beard Growth?

BeardMax 5% Minoxidil beard growth serum by ManMatters is one of the best brands for minoxidil. Their beard growth serum aims to energise, fortify, safeguard, and stimulate hair follicles. The mixture strengthens weak, thinning hair and becomes considerably thicker, fuller, and healthier. Their oil treatment contains bio-active elements that hasten hair growth and replenish the natural oils that are needed for hair growth on the scalp.
Do You Lose Beard After Stopping Minoxidil?

Up to the age of 30, beard growth is not at its maximum capacity. You are right that DHT has no detrimental effects on beard development. Most men do not experience hair loss after ceasing minoxidil. Thus, it is doubtful that there are many dependent hairs after stopping, although it is not impossible.
Is Minoxidil Beard Permanent?

This over-the-counter medication called minoxidil has received FDA approval to treat specific types of hair loss in both men and women. While the exact mechanism by which minoxidil encourages hair growth is unknown, we do know that when it is applied to the scalp, the hair growth is temporary and disappears once you stop using minoxidil.
Can I Shave During Minoxidil?

Yes, you can shave while using minoxidil. When administered, minoxidil encourages blood flow in the affected area. Of course, ensure that the minoxidil is fully absorbed into the skin to prevent rinsing.
How Much Minoxidil Is Needed to Grow a Beard?

One study was the only one to evaluate minoxidil for beards. According to research published in the Journal of Dermatology, this 2016 study indicated that a 5% minoxidil lotion performed marginally better than a placebo.