Key Ingredients 🌿
Usage Instructions
Deep Nourishment Hair Mask (100 g)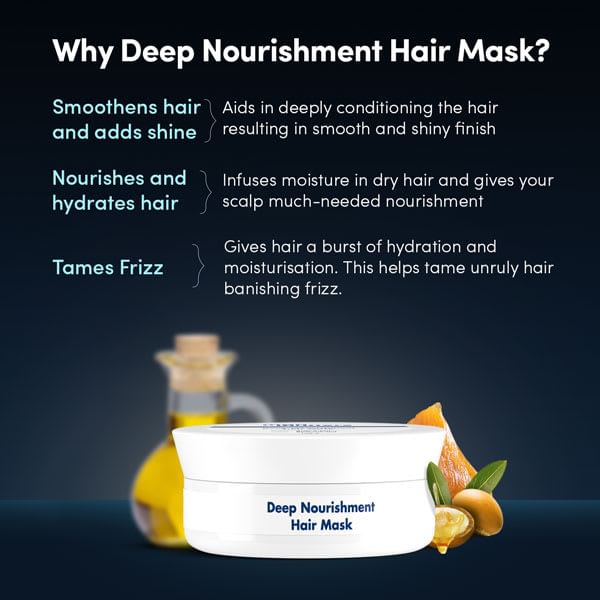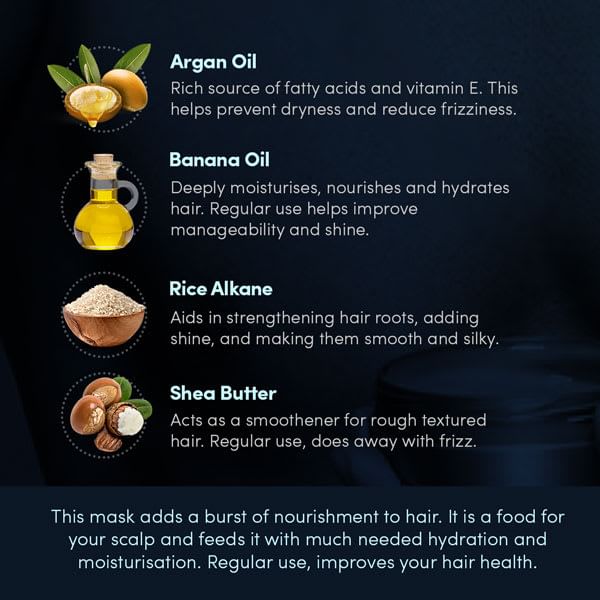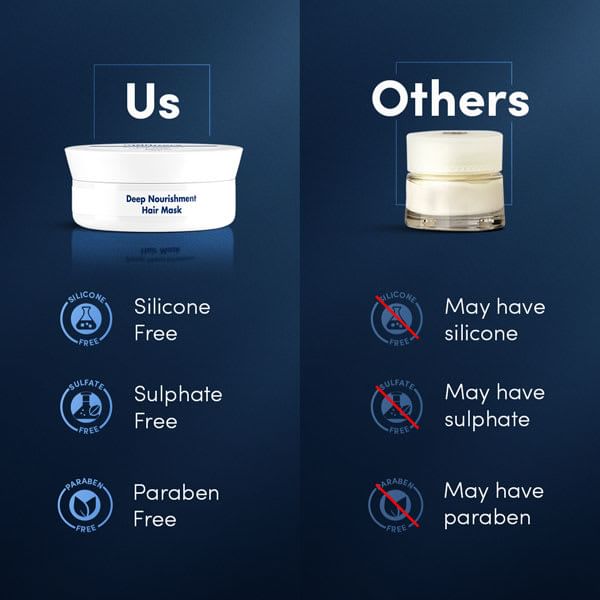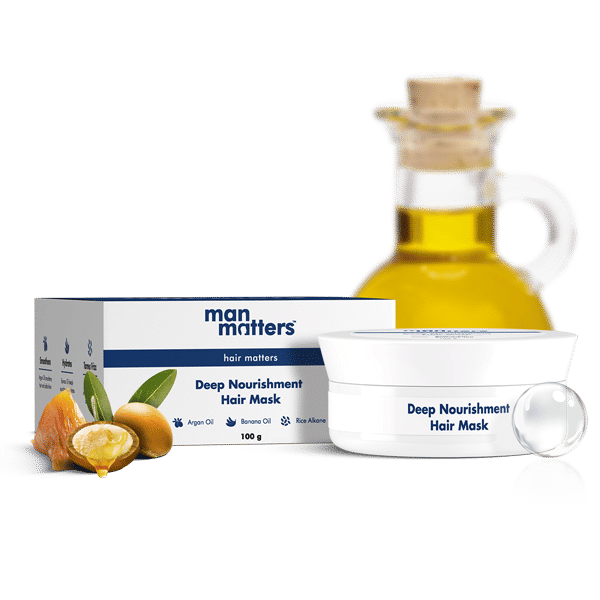 An Argan Oil Hair Mask for Stronger & Healthier Hair
Deep Nourishing Hair Mask For Dry & Frizzy Hair (100 g)
Check Delivery Date
Enter pincode to check delivery date of your wellness regime.
This rich and creamy pre-shampoo hair mask is infused with Banana Oil, Shea Butter, Argan Oil and Rice Alkane. Together, these ingredients repair, nourish, moisturise and hydrate your hair. Regular use of Man Matter Deep Nourishing Hair Mask for Dry & Frizzy Hair leaves your hair feeling soft, shiny and frizz-free, making the hair stronger and healthier.
What does the product do
Nourishes and hydrates hair
Poor hair health is the result of an undernourished scalp and dehydrated hair. An undernourished scalp leads to weak follicles resulting in hair fall. This hair mask for dry hair has a blend of Banana Oil and Shea Butter which infuses moisture in your dry hair and gives your scalp much-needed nourishment.
Tames Frizz
Frizzy hair is caused when hair is dry, the cuticle is rough, and the weather is humid. The hair takes in moisture from the air to compensate for the dryness. This moisture intake makes your hair puffy. Rice Alkane in this hair mask for frizzy hair gives your hair a much-needed burst of hydration and moisturisation. This keeps your hair frizz-free and smooth, resulting in healthy-looking hair.
Smoothens hair and adds shine
Constant pollution and dirt damages and dulls the hair. Argan Oil in this mask for healthy hair smoothens and repairs your hair. Regular use of this nourishing hair mask helps deeply condition the hair resulting in smoother, shinier and stronger hair.
Who is it for
This nourishing hair mask is for you if: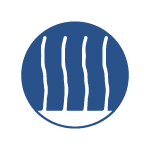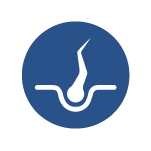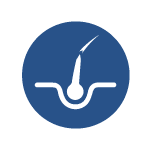 Begin your wellness journey with a complimentary doctor consultation
Consult Now
How does it do it?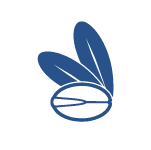 Argan Oil
Sourced from the farms of Morocco, Argan Oil is famous for its moisturising properties. It is a rich source of fatty acids and vitamin E, which provides a layer of protection to your hair and scalp. This non-comedogenic layer helps prevent dryness and reduce frizziness. This Argan oil hair mask results in smooth and shiny hair.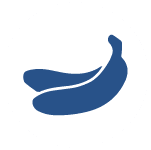 Banana Oil
Bananas are a storehouse of nutrition - even for your hair! Rich in potassium, Vitamin B6, Vitamin C, Magnesium and Protein - Bananas deeply moisturise, nourish and hydrate the hair. Regular use helps make the hair shinier, healthier and more manageable. This hair repair mask also results in a soft and silky look.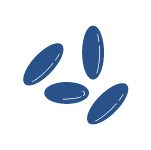 Rice Alkane
Rice Alkane is a Korean secret for beautiful hair. Rich in amino acids, the regular use of Rice Alkane helps in strengthening hair roots, adding shine, and making them smooth and silky. The inositol in the rice also helps repair damaged hair and protects it from further damage.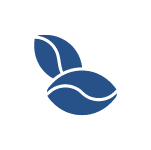 Shea Butter
Shea Butter has been used for centuries to soothe dry scalp and tame unruly hair. This butter is highly moisturising for the hair and scalp. It helps smoothen rough textured hair. Regular use of shea butter tames frizz and leaves hair feeling soft and smooth.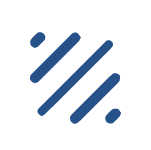 Light texture
This deep moisturising hair mask comes in a cream-like texture which is easy to apply and easy to remove too. Don't worry about using bucketloads of water.
Ingredients list
Purified Water, Cetyl Alcohol, Dicocoyl Pentaerythrityl Distearyl Citrate, Cetostearyl Alcohol, Glyceryl monostearate, Glycerin, Rice alkane, Brassicyl Isoleucinate Esylate, Musa Sapientum (Banana) Fruit Oil, Argania Spinosa Kernel (Argan) Oil, Sodium Acrylates Copolymer, Phenoxyethanol, Butyrospermum Parkii (Shea) Butter, Perfume (IFRA certified), Brassica Alcohol, Sodium Stearoyl Glutamate, Lecithin, Ethylhexylglycerin, Citric Acid.
Safe and Effective
Sulfate Free
Silicone Free
Paraben Free
Alcohol Free
EU Allergen Free
Australian Made Safe Certified
Clinical Proof
Lab tests and certifications
Backed by
Research
View Studies


Made Safe
Certified
How to use
Rinse the hair with lukewarm water.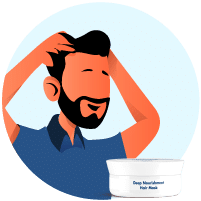 Apply this nourishing hair mask from root to tip and keep it on for 10-15 mins.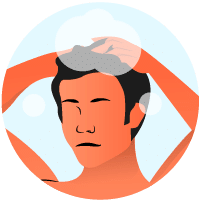 Rinse your hair with Man Matters range of shampoos.
Note: This hair mask is intended to use only once a week. If you feel your hair is dry post wash, try following up with a conditioner.
HOW TO USE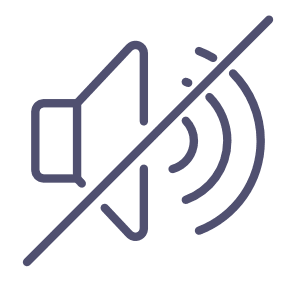 What it works best with?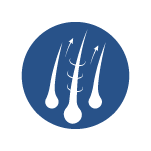 Products targeted to maintain hair health
Choosing the correct shampoo, conditioner, serums and tonic help maintain hair health. Create a hair routine that suits your scalp.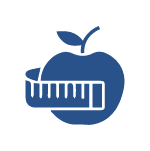 Good diet
Nothing replaces nutritional food intake. Ensure you have good dietary foods such as eggs, spinach and other green leafy vegetables to help boost your hair health.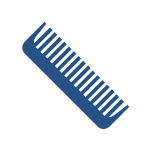 The right grooming tools
Plastic combs cause micro-tears in your scalp, weakening your follicles. A
wooden comb
evenly distributes natural sebum more evenly throughout the mane, making your hair resilient against everyday challenges.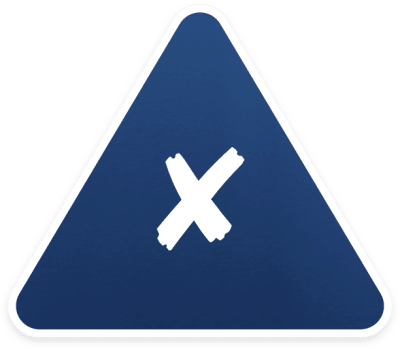 What it won't do
Make your hair soft and silky in a day
All good things take time, so does getting back healthy hair that stays.
Nourish your scalp with one use
The way nourishing your body takes time, nourishing your scalp isn't a one-day process.
Solve the problem equally for hair
Each person is different, and the way our solution works on everyone is different.
Won't replace your hair care routine
This hair mask for dry hair is meant to work with other products aimed at giving you healthy hair. Don't only depend on this mask to do the job. It is a perfect step 1 but not a complete solution your hair woes.
Won't ban frizz from your hair
While this hair mask for frizzy hair would help in taming unruly hair, it won't ban frizz from your hair forever. Keep hydrating your scalp for less frizz.
HOW WE COMPARE


Sulphate Free

Silicone Free

Lab tested

Paraben Free

EU Allergen Free

Sulphate

Silicon

Untested product

Paraben

Allergic Fragrances
CONTACT US
Got Questions?
Its normal to be curious, we will answer your doubts comprehensively here, for everything else we are just a Whatsapp message away.
Deep Nourishment Hair Mask (100 g)
Live a better life. Try our products now.
Get 20% Cashback in your MM Wallet.
Applicable on all orders when you pay online.
*Cashback is credited to your wallet once your order is delivered and is valid for 90 days from the date of credit into your wallet.
Delivery Instructions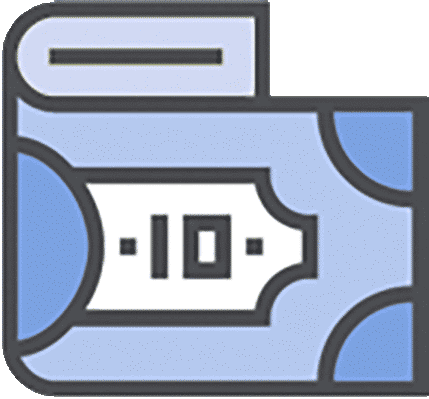 COD AVAILABLE
You can pay for
your order
on delivery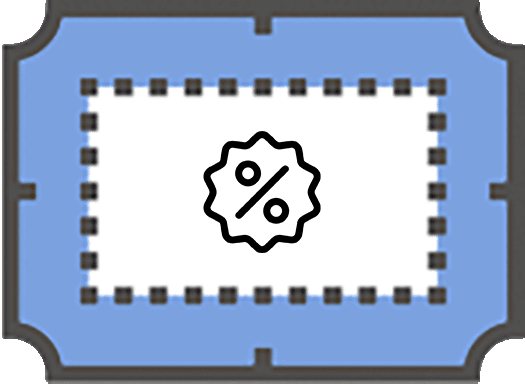 20% CASHBACK
When you pay online by card, netbanking or UPI/GooglePay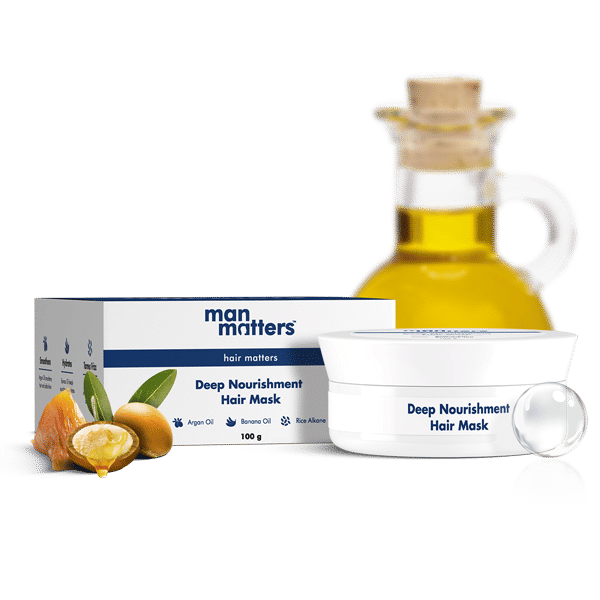 An Argan Oil Hair Mask for Stronger & Healthier Hair
Deep Nourishing Hair Mask For Dry & Frizzy Hair (100 g)
The product has been added to the cart