Key Ingredients 🌿
Usage Instructions
REJUV 10% Vitamin C Face Serum (30 ml)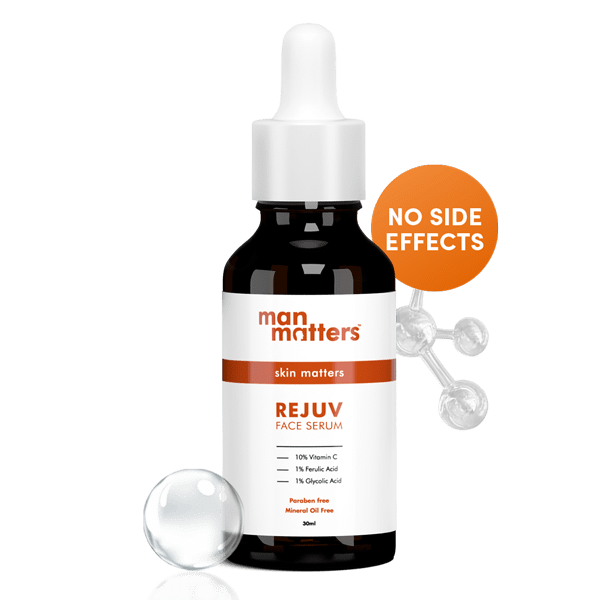 Men's Face Serum for Glowing Skin
REJUV 10% Vitamin C Face Serum (30 ml)
Check Delivery Date
Enter pincode to check delivery date of your wellness regime.
Get glowing, healthy and moisturised skin with this 10% Vitamin C Face Serum for Men that's been co-created with dermatologists to be suitable for all skin types.
This 10% Vitamin C serum is enriched with 1% Ferulic Acid and 1% Glycolic Acid. Together, they help even skin tone, reduce dark spots, diminish wrinkles' appearance, add glow to dull skin, and hydrate dry skin. Regular use of this Vitamin C serum gives you glowing, youthful, soft and moisturised skin!
What does the product do
Gives moisturised & smooth skin
With age, pollution and an unhealthy lifestyle, skin becomes dull and dry. Glycolic Acid in this Vitamin C face serum is a water-soluble AHA which is a potent humectant. It replenishes dry skin with a burst of moisture. This results in a moisturised, smooth and supple-looking skin.
Faded dark spots & glowing skin
Uneven skin tone is caused due to sun damage, hyperpigmentation and dark spots. This lightweight face serum for men with 10% Vitamin C penetrates deep into the skin to reduce melanin production. The regular use of this Vitamin C serum for men results in faded dark spots, even skin tone, and glowing skin.
Diminished fine lines & wrinkles
Fine lines and wrinkles appear due to the depletion of collagen, a building block for our skin. Vitamin C for skin boosts collagen production, and Ferulic Acid protects skin from oxidative damage - keeping skin tight and youthful, with regular use.
Who is it for
This Vitamin C face serum is for you if:
Begin your wellness journey with a complimentary doctor consultation
Consult Now
How does it do it?
10% Vitamin C
The 10% Vitamin C in this face serum for men comes from Ethyl Ascorbic Acid - the most potent and stable formulation of Vitamin C. This lightweight formula has skin-friendly molecules, which penetrate deep into the skin and maximise the benefits without losing efficacy. Regular use promotes collagen production, diminishes the appearance of fine lines, fades pigmentation and dark spots results in glowing, dewy skin!
1% Glycolic Acid
Glycolic Acid is derived from sugarcanes and is one of the most potent forms of AHA. Famous for its exfoliating properties, it removes dead skin cells revealing a glowing complexion. It also helps boost elasticity and reduce the appearance of fine lines and wrinkles. As a humectant, it also keeps the skin hydrated.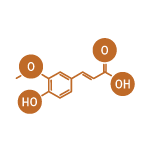 1% Ferulic Acid
Known as a powerful antioxidant, Ferulic Acid helps protect skin from oxidative, UV and radiation damage. It does that by neutralising free radicals keeping skin youthful and free of fine lines.
Easy Absorption
This water-based face serum for men is a lightweight formula with 5% Aloe Vera. It penetrates deep into the skin and gets absorbed quickly without leaving behind any residue.
Ingredients list
3-O-Ethyl Ascorbic Acid, Ferulic Acid, Glycolic Acid, Citric Acid, Hyaluronic Acid, Butylene Glycol, Diethylene Glycol Monoethyl Ether, Propylene Glycol, Propylene Glycol, Sodium Gluconate, Aloe Vera Extract, Allantoin, Perfume, Phenoxyethanol (and) Ethylhexylglycerin, Water
Safe and Effective
100% Vegan
Cruelty Free
Paraben Free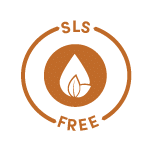 SLS Free
Mineral Oil Free
Silicone Free
Phthalate Free
No Harmful Chemicals
Australian Made Safe Certificate
Clinical Proof
Lab tests and certifications


Made Safe
Certified
how to use
Step 1: Clean your face with
Man Matters Face Wash
. Apply 4-5 drops of this 10% Vitamin C serum during the day or before going to bed every night.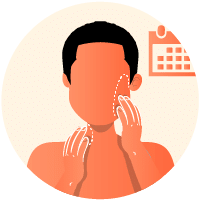 Step 2: Gently massage the face serum in swift yet gentle upward strokes and wait for it to absorb into your skin.
Caution: Every Vitamin C serum makes your skin photosensitive, i.e. prone to sun damage, thus it is important to apply sunscreen post-application. Follow the instructions and use only on unbroken skin. Patch test this face serum for glowing skin before incorporating it in your routine. If irritation occurs, consult a professional. Keep out of reach of children.
What it works best with?
Healthy diet
Eating fresh, whole foods like fruits & salads will help boost skin regeneration.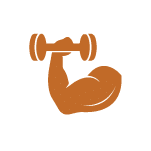 Exercise
Exercising 3-4 times a week boosts blood circulation and oxygen delivery to your skin, improving skin health.
Sleep
A minimum of 7 hours of uninterrupted sleep will help keep your skin refreshed & young.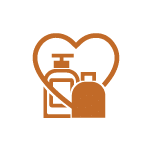 Skin Care Regime
Take extra care of your skin by using an anti-acne cleanser, and following up with a non-comedogenic
moisturiser
and
sunscreen
.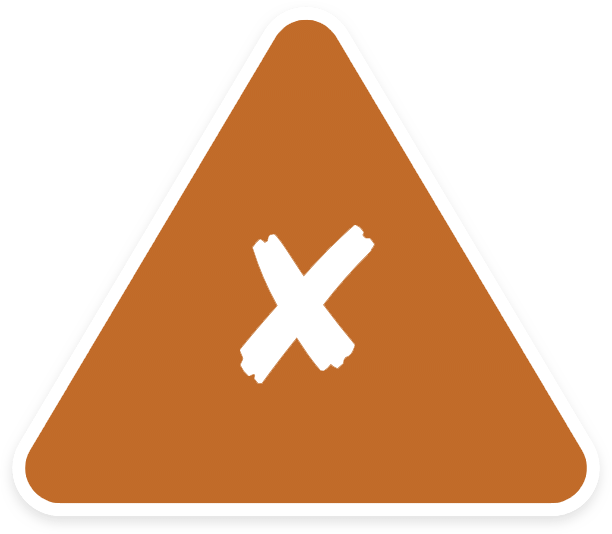 What it won't do
Make your skin clear in a day
Just like Rome, the changes on your skin won't show up in a day. Experience best results for your skin after consistent use of this face serum for dark spots for a minimum of 3-4 months.
Ban fine lines from your skin
While this face serum for men helps prevent wrinkles from your skin, it might not completely eliminate it. It might significantly decrease the appearance of wrinkles but not completely stop it.
Completely stop dark spot formation
Melanin formation is a natural response to protect your skin against sun damage. While this Vitamin C serum for skin helps slow down melanin production, it won't completely stop it.
HOW WE COMPARE


100% vegan

Cruelty Free

No Paraben

SLS Free

Mineral Oil Free

Silicone Free

Phthalate Free

Free of Harmful Chemicals

Australian Made Safe Certificate

Dairy ingredients

Tested on Animals

Contains Paraben

Contains SLS

Contains Mineral Oil

Contains Silicone

Contains Phthalate

Contains Harmful Chemicals

Not tested for safety
CONTACT US
Got Questions?
Its normal to be curious, we will answer your doubts comprehensively here, for everything else we are just a Whatsapp message away.
REJUV 10% Vitamin C Face Serum (30 ml)
Live a better life. Try our products now.
Get 20% Cashback in your MM Wallet.
Applicable on all orders when you pay online.
*Cashback is credited to your wallet once your order is delivered and is valid for 90 days from the date of credit into your wallet.
Delivery Instructions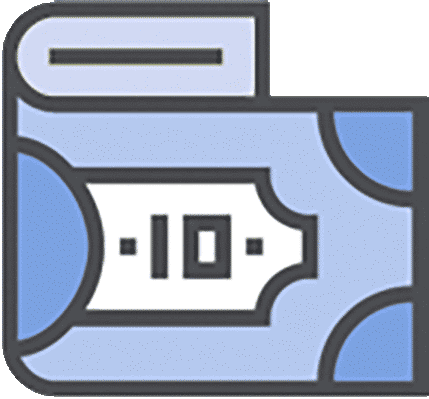 COD AVAILABLE
You can pay for
your order
on delivery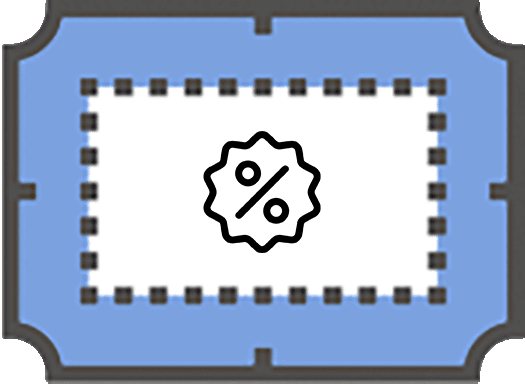 20% CASHBACK
When you pay online by card, netbanking or UPI/GooglePay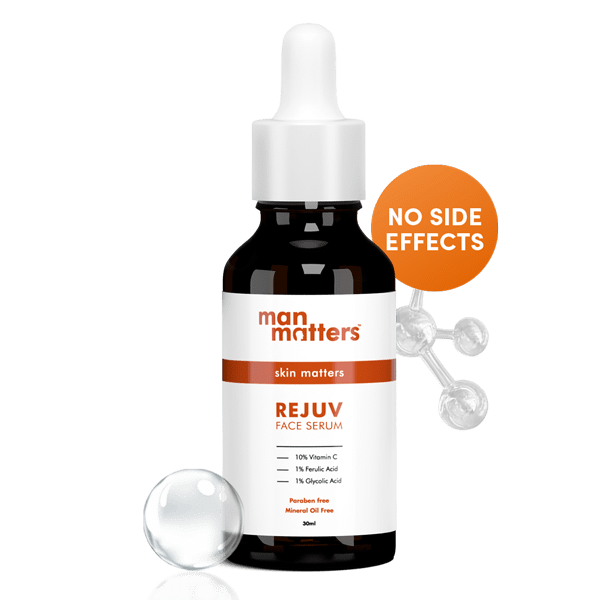 Men's Face Serum for Glowing Skin
REJUV 10% Vitamin C Face Serum (30 ml)
The product has been added to the cart