Key Ingredients 🌿
Usage Instructions
Ashwagandha Vitamin D Gummies (60 N)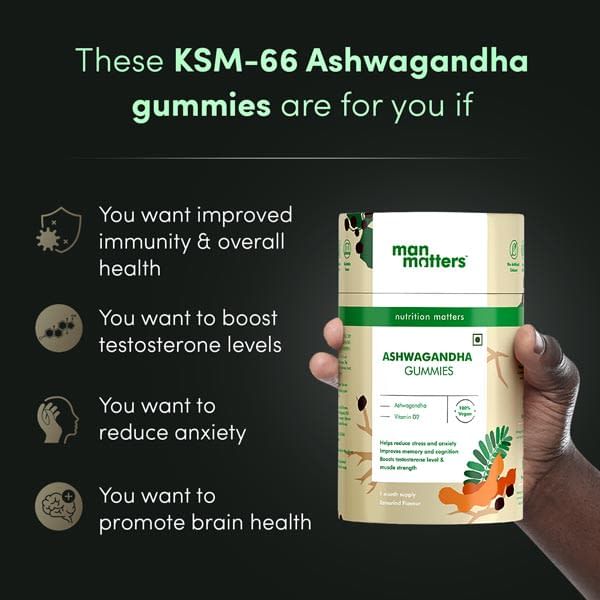 Healthier Alternative To Ashwagandha & Vitamin D Tablets
Ashwagandha Vitamin D Gummies (60 N)
Check Delivery Date
Enter pincode to check delivery date of your wellness regime.
Expert Recommended Solutions
Healthier Alternative To Ashwagandha & Vitamin D Tablets
Get the benefits of pure and potent Ashwagandha and Vitamin D with these gummies. Each serving includes 300mg of Ashwagandha extract to maintain mental wellbeing, enhance brain function and promote endurance and muscle building by boosting testosterone levels in men. They also contain 100% of the Vitamin D required by the body daily (10 mcg), which boosts bone health, supports brain health and improves overall wellbeing. Get all the goodness of Ayurveda's finest ingredient - in the tastiest way possible!
Product Details
1 Pack consists of 60 Gummies
Eat 2 gummies daily
| | |
| --- | --- |
| Suitable for age | Adult Male |
| Net qty | 1 Pack (60 gummies) |
| Price/gummy | Rs. 10/gummy |
| Flavour | Tamarind |
| Lasts for | 3 months |
| Properties | No Artificial Flavour, No Artificial Colours, Certified Nutrients, Clinically Proven, Gelatin Free |
More info
Effects with regular intake
Decrease in stress levels
In stressful situations, our body releases the hormone cortisol, which induces anxiousness. KSM-66 Ashwagandha Extract is a proven adaptogenic, i.e. it is a natural substance considered to help the body adapt to stress. Regular consumption of Ashwagandha Gummies helps counteract the harmful effects of stress by lowering cortisol levels, improving the body's ability to cope with stressors.
Improved physical performance
Testosterone is a vital hormone for men responsible for strength, endurance and vigour. With time and stress, testosterone levels begin to dip, leading to loss of strength, increased fatigue, and decreased vigour. Taking pure ashwagandha, combined with regular exercise, helps boost testosterone levels resulting in improved muscle development and strength, and a decrease in body fat %.
Improved immunity and brain function
Is common cold too common for you? Ashwagandha Extract could help you with this. The antioxidants and withanolides found in Ashwagandha play a significant role in their ability to boost your immune system. These gummies also contain Vitamin D. Ashwagandha and Vitamin D, together, helps improve brain health by promoting concentration and memory.
Improved quality of sleep
Ashwagandha is an adaptogen, i.e. it helps the body cope with chronic physical and mental stress. Regular consumption of Ashwagandha Extract improves your body's ability to enter into deep rest, which helps improve the quality of sleep. This promotes overall health and even helps promote quicker recovery after exercise.
Note: Nutrition for optimum health needs to be taken on a regular basis, and is a lifestyle choice. We suggest consuming these gummies consistently as instructed for better and prolonged results.