Key Ingredients 🌿
How It Works
Visible Effects
Usage Instructions
Anti Hair Fall Shampoo for Men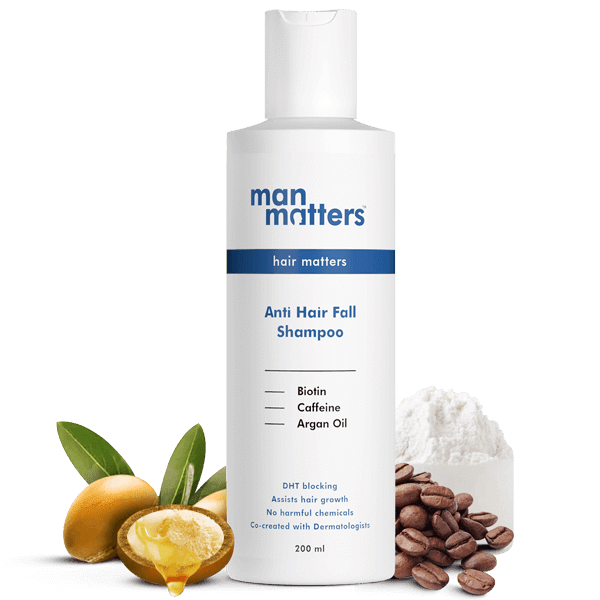 To Stop Hair Loss
Anti Hair Fall Shampoo
Check Delivery Date
Enter pincode to check delivery date of your wellness regime.
Our dermatologically tested Anti Hair Fall Shampoo strengthens hair and assists hair growth. With no harmful chemicals (Parabens, Sulphates and SLS free), make this a part of your daily regime to stop hair fall.
Product Details
1 Bottle consists 200ml
Use regularly for 60 days
KEY INGREDIENTS
Sourced from across the world, the best ingredients to help you fight hair loss

Caffeine
From the Alps of Switzerland, Caffeine effectively Blocks ĎHT (Ďihydrotéstostéroné) horomone, which is majorly responsible for hair loss in men.

Argan Oil
The magic oil from Morocco, that has high vitamin E content that not only strengthens your hair but also locks moisture in your hair strands to make them frizz-free.

Biotin
The crucial vitamin that thickens hair and stimulates hair growth. It helps convert nutrients into energy essential for hair growth.

Paraben Free

Sulphate Free

Cruelty Free

No SLS & Sulphates

No Silicones

Clinically Tested
Learn More about all the ingredients used in our products
🌿 Learn More
Combatting Hair Fall but not sure if this is the right product for you?
Take this quick assessment co-created with our expert doctors to find out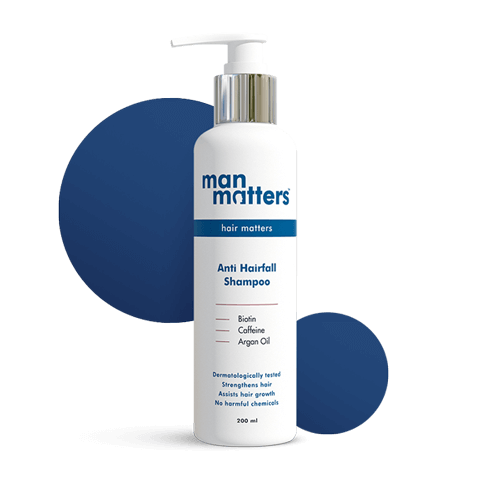 Begin your wellness journey with a complimentary doctor consultation
Consult Now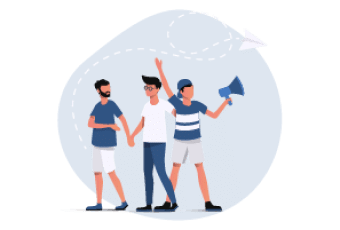 Help your friends & Earn Money
Refer & Earn up to Rs 2000 in your Man Matters Wallet
Refer Now
Why do people love this product?

Paraben and Sulphate Free
A paraben, sulphate and SLS free formula that is mild and lathers well

Biotin Enriched
Enriched with biotin that strengthens your hair strands

Goodness of Argan
Complete with argan oil that gives your hair that nourishing glow

ĎHT Blocking
ĎHT blocking through caffeine
HOW IT WORKS
A clean scalp is extremely important to ensure healthy hair. Our anti hairfall shampoo clears dirt and build up. It effectively cleanses the scalp, ensuring your hair follicles are unblocked.
Damaged hair strands are more likely to break and cause hair fall, Argan oil in the serum and shampoo not only strengthens your hair strands but also locks moisture in your hair strands to make it frizz-free.
HOW TO USE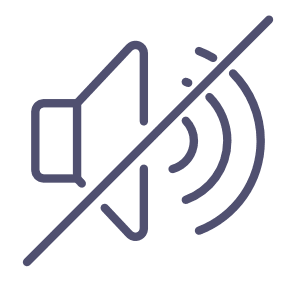 VISIBLE EFFECTS
Here's what happens once you start this regime
Reduced Hair Breakage
The ingredients help the scalp produce a healthy sebum to nourish and protect the hair. They strengthen the hair cuticle to reduce breakage. Seeing too many hair strands on your comb? No more, we say.
Cleaner Scalp
A dirt free, cleansed scalp has no flakes and layers of dirt. Dirty, oily scalp? No more, we say.
Shinier Hair
Our solutions enriched with Vitamin E, fatty acids such as oleic, linoleic and polyphenols promote hair growth and give your hair a nice and soft sheen. Dull, dry hair? No more, we say.
HOW IT'S USED
All day hair protection

While having a bath
Apply to wet hair and massage into the scalp.

While having a bath
Leave it on for 2-3 minutes and then rinse, giving the ingredients time to seep into your scalp.

After your bath
Avoid using a hair dryer to dry your hair

Everyday
Use regularly for 60 days to start seeing a reduction in hair fall.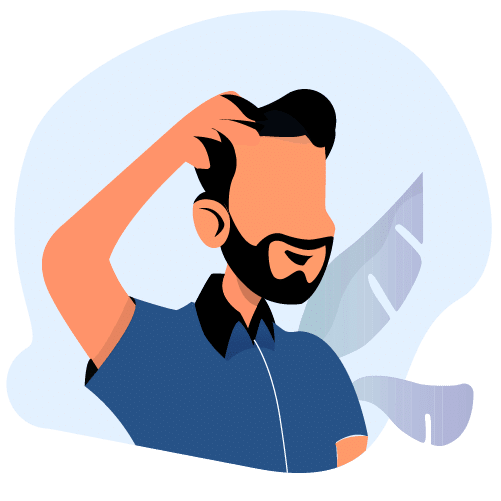 Check your hair quality with a few instant tests
Learn More
Frequently Purchased Regimes
Why choose Man Matters?
Free Doctor Consultation
The wellness ecosystem is broken and we intend to fix that. We believe that expert doctor advice and consult shouldn't be so hard, our expert dermatologists are always there to help you and give their advice.
We get you
Talking about personal health is hard. Often embarrassing. We get that. So we took 'matters' into our own hands; and created a place for all matters of man. Hair, skin, weight, sleep, performance and much more. We get you, and we get what matters to you.
Expert Backed Solutions
With so many unreliable sources and searches, it's hard to decide whom to trust. Our solutions are trusted by experts, and are backed by science. We believe that wellness has a science behind it and we want to make it more accessible.
Extended Care & Follow-ups
Wellness is an actively pursued goal of being in a state of good health. We believe that compliance and discipline matter if you want to move towards wellbeing, and we get that it's not easy. We are here to handhold you and help you on this journey.
Stay up to date with all our new product launches, promotions and offers
Enable Alerts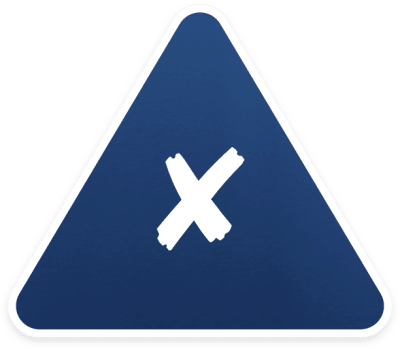 THINGS TO NOTE
Here's what our product doesn't do
Fast results
All good things take time, so does growing back healthy hair that stays.
Solve the problem equally for all
Each person is different, and the way our solution works on everyone is different.
Find true love
We can only make your hair more conducive to running fingers through them. Use that power wisely.
Make you popular
People who truly matter won't care about how you look.
Happy Customers!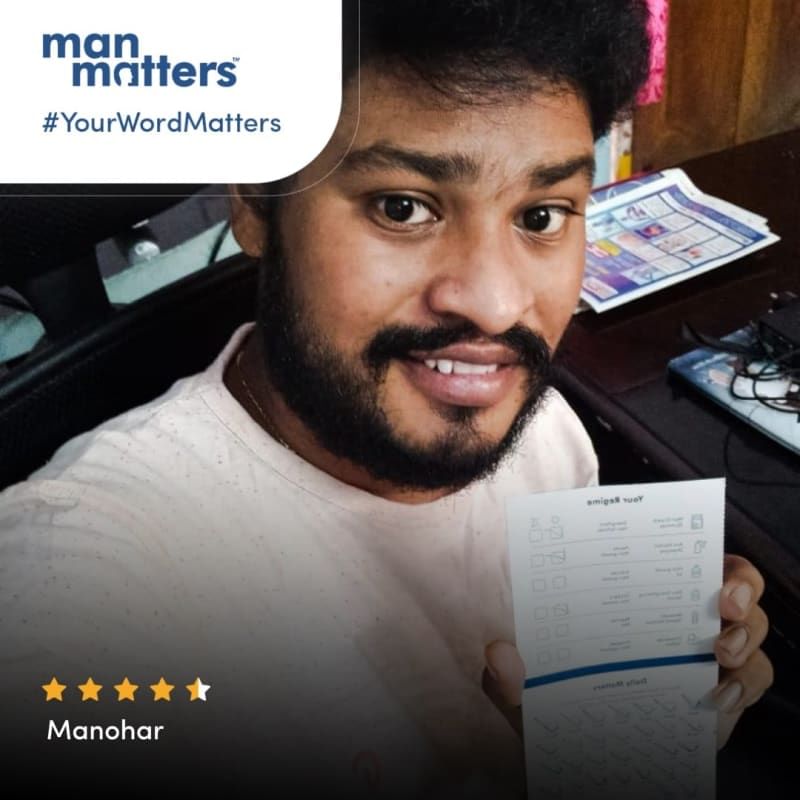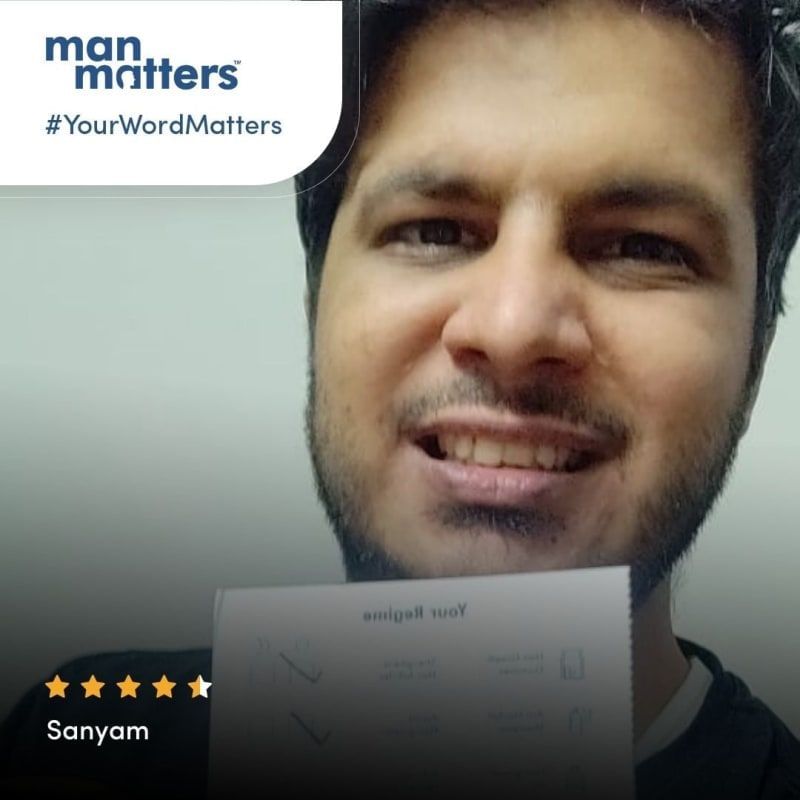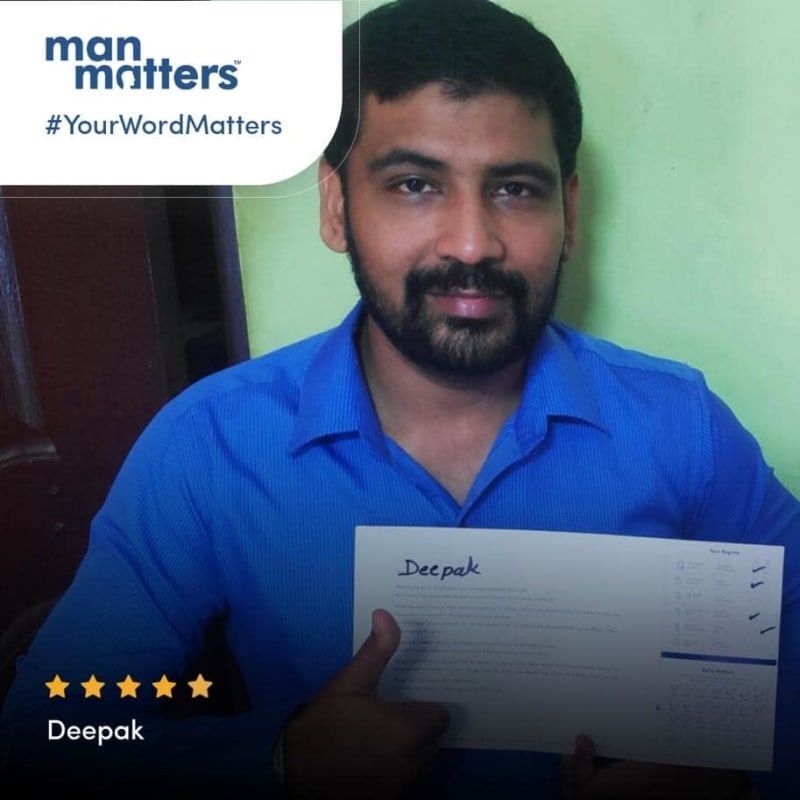 CONTACT US
Got Questions?
Its normal to be curious, we will answer your doubts comprehensively here, for everything else we are just a Whatsapp message away.
Anti Hair Fall Shampoo for Men
Q.
How long does the Anti hair fall shampoo take to work?
+
From the moment you start using your shampoo, the super ingredients like biotin and argan oil will revitalize your scalp and hair follicles. However, you will notice a visible difference in hair volume and texture over consistent use for 2 months.
Q.
How can I stop hair fall immediately?
+
To stop hair fall immediately, you need to provide your hair with adequate nutrients. Argan Oil shampoo like this one moisturizes and nourishes hair strands while caffeine is an effective ĎHT blocker that prevents excess ĎHT hormones from accumulating and shrinking hair follicles.
Q.
Why do I need biotin for hair?
+
Biotin is an essential vitamin required to control hair loss. It thickens hair and stimulates hair growth. Biotin for hair is also known to convert nutrients into the energy essential for hair growth.
Q.
What is a ĎHT Blocker?
+
Excess ĎHT usually accumulates at your hair follicles and prevents hair from getting adequate blood flow ad nutrients. This causes hair to thin and eventually snap off.
ĎHT blockers like caffeine slow down ĎHT production in the body. In doing so, ĎHT Blockers enable your healthy growth of hair follicles. Caffeine is a natural ĎHT Blocker that allows healthy hair growth.
Q.
Is a ĎHT Blocker good for me?
+
In case you have excess hair fall or thin hair, it could be due to excess ĎHT. After consulting your doctor, you can start using a ĎHT Blocking shampoo to reduce hair fall in case the hair fall and hair thinning is due to excess ĎHT levels. A ĎHT Blocking Shampoo like this one is completely safe for you. It uses a natural ĎHT Blocker - caffeine.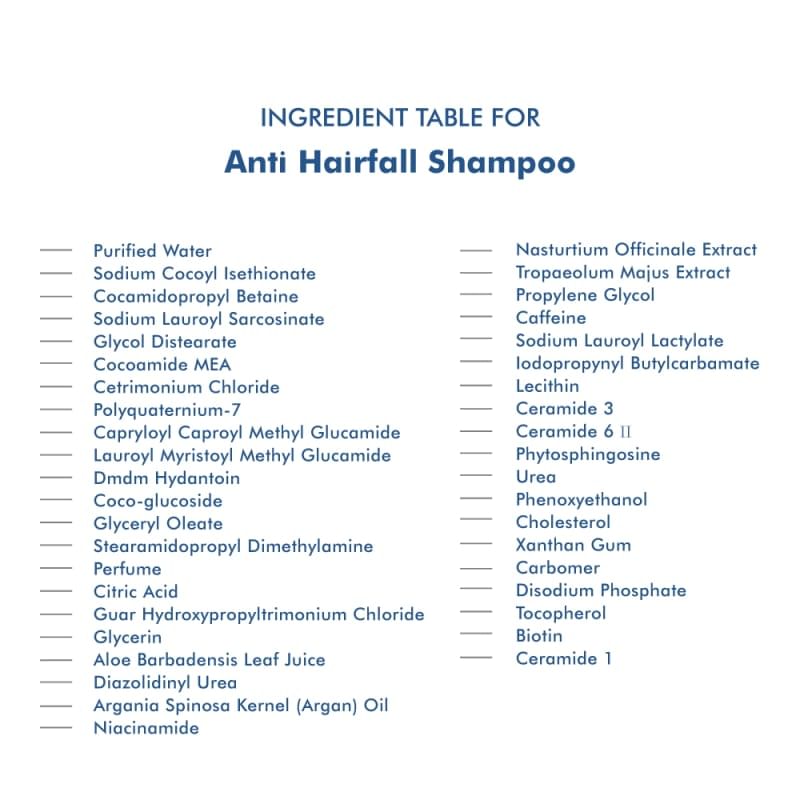 Live a better life. Try our products now.
Get 20% Cashback in your MM Wallet.
Applicable on all orders when you pay online.
*Cashback is credited to your wallet once your order is delivered and is valid for 90 days from the date of credit into your wallet.
Delivery Instructions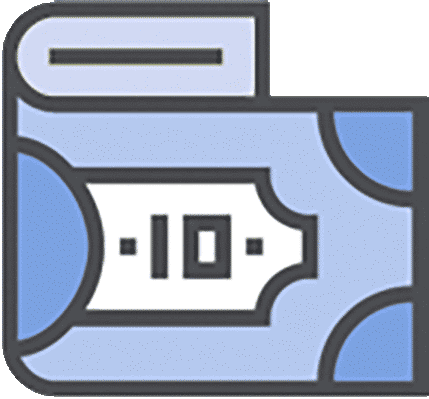 COD AVAILABLE
You can pay for
your order
on delivery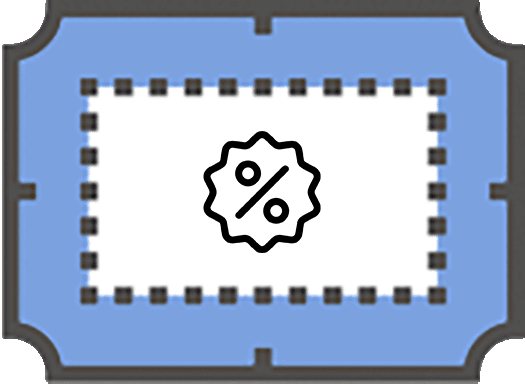 20% CASHBACK
When you pay online by card, netbanking or UPI/GooglePay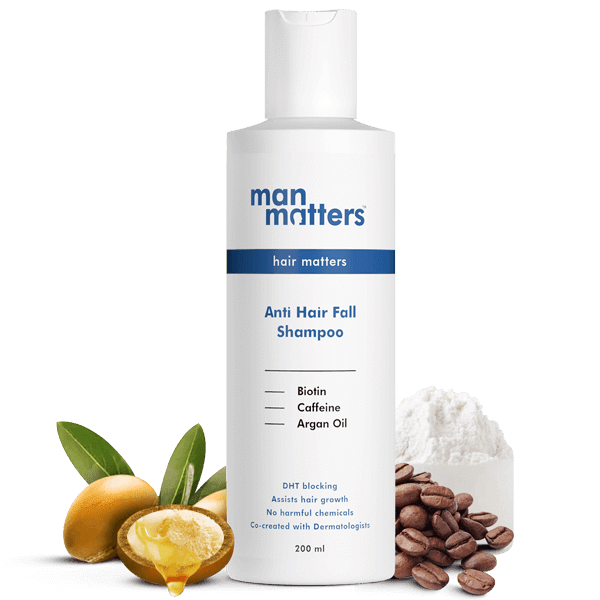 To Stop Hair Loss
Anti Hair Fall Shampoo
The product has been added to the cart