Key Ingredients 🌿
Usage Instructions
DarkMax Hair Tonic (60 ml)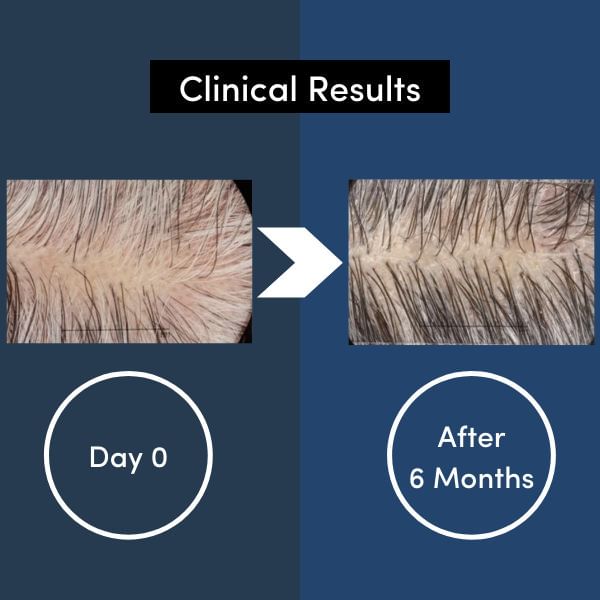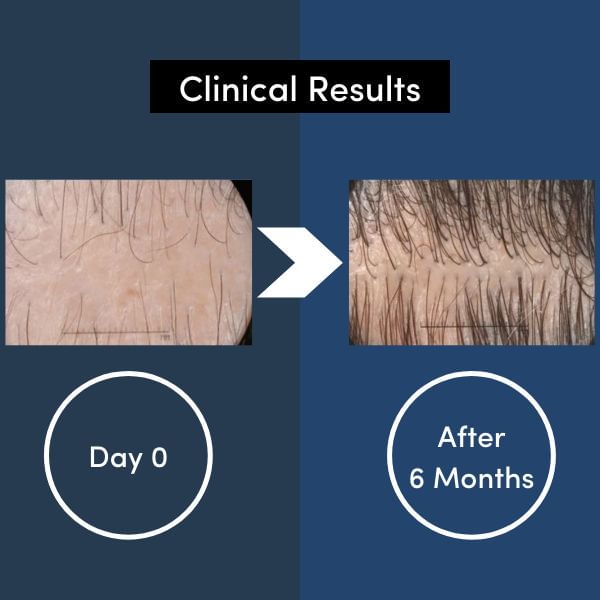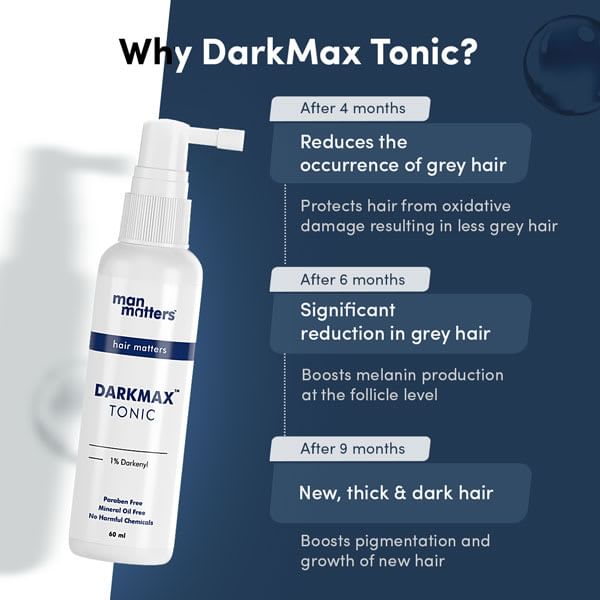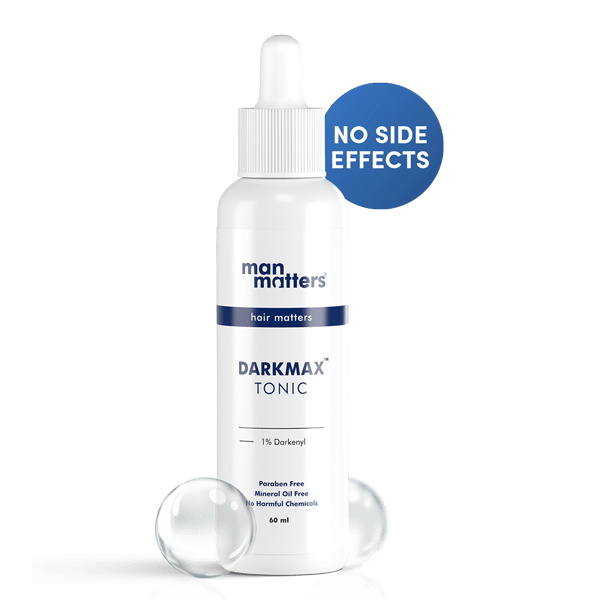 Clinically Proven Hair Treatment for Premature Greying
DarkMax Hair & Beard Tonic with Darkenyl (60 ml)
Check Delivery Date
Enter pincode to check delivery date of your wellness regime.
Expert Recommended Solutions
Say goodbye to grey hair and harsh dyes with DarkMax Tonic with 1% Darkenyl. Constant stress, pollution, UV exposure, and unhealthy habits reduce melanin production, causing premature greying. This makes men look older than their actual age.
We've formulated DarkMax Tonic with Darkenyl - a patented breakthrough innovation from Givaudan in Switzerland, clinically proven to add pigment to hair without causing any side effects. With every use, it seeps into your scalp and promotes melanin production, resulting in re-pigmentation of grey hair. It can also be used on beards!
Product Details
60 ml
Apply once a day
| | |
| --- | --- |
| Suitable for age | 18 - 35 |
| Net qty | 1 Bottle (60 ml) |
| Price/ml | Rs. 14/ml |
| Lasts for | 9 months |
| Properties | Paraben Free, Alcohol Free, Silicone Free, Cruelty Free |
More info
What does the product do
Reduces the occurrence of grey hair
Darkenyl has anti greying agents, which effectively decrease oxidative stress in the hair bulb to halt grey hair. This decrease in oxidation reduces the transitioning of dark hair to grey hair, resulting in lesser grey hair on the scalp.
Significant reduction in grey hair
Darkenyl helps boost melanin production and re-pigment up to 56% of white hair. Melanin production leads to an increase in pigmentation of hair resulting in a reduction of grey hair.
New, thick and dark hair
Along with Darkenyl, this tonic contains ingredients that help with hair growth. Together, it results in fuller, voluminous and pigmented growth.
Who is it for
DarkMax Tonic is for you if:
Begin your wellness journey with a complimentary doctor consultation
Consult Now
How does it do it?
1% Darkenyl
Darkenyl™ is clinically proven to reduce the proportion and density of grey hair appearance. It is a unique combination of Taxifolin Glucoside (an antioxidant that acts as a stimulator of stem cell production and maintenance) and N-acetyl-tyrosine (a promoter of melanin). With regular use, it fights against grey hair by protecting follicles from oxidation and stimulating hair follicles by creating new melanocytes (melanin cells). It also activates melanogenesis which increases melanin production in the scalp. All this to add pigment to and darken premature grey hair - both on your scalp and your beard.
Proven Results
Loved by 100,000 men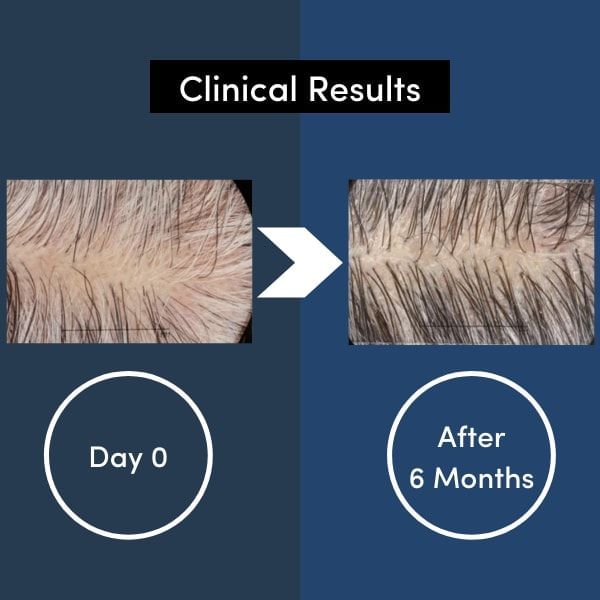 Ingredients list
Purified Water, Amla (and) Bhringraj (and) Hibiscus (and) Henna (and) Indigo (and) Annar Chilka (and) Kapurkachli (and) Behada (and) Harde (and) Black Tea (and) Walnut (and) Kahir Chal Extract, Potassium Lactate, Glycerin (and) Water (and) Palmitoyl Dipeptide-52, Glycerin (and) Water (and) N-Acetyl-Tyrosine (and) Sodium Metabisulfite (and) Glycine (and) Larix Europaea Wood Extract (and) Zinc Chloride (and) Camellia Sinensis Leaf Extract [Darkenyl], Phenoxyethanol, Ethylhexylglycerin, Acrylamide (and) Sodium Acryloyldimethyltaurate (and) Acrylic Acid Copolymer, Sodium Gluconate, Fragrance
Safe and Effective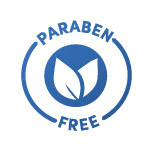 Paraben Free
Alcohol Free
Silicone Free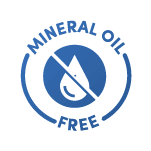 Mineral Oil Free
Cruelty Free
100% Vegan
Clinical Proof
Lab tests and certifications
Backed by
Research
View Studies
How It's Used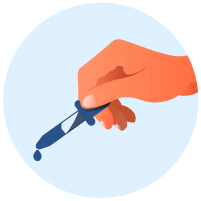 Using the dropper, take 1-2 ml of the solution.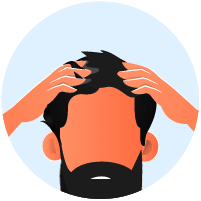 Apply it onto the scalp and spread the solution evenly with your fingertips. As the solution has a water-like consitency, apply to one area at a time to ensure complete coverage.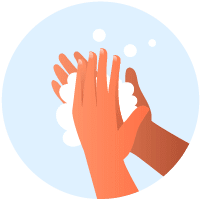 Once done, wash your hands.
Note: For best results, use every day.
HOW TO USE
What it works best with?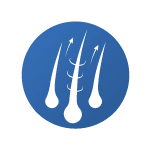 Products targeted to maintain hair health
Choosing the correct shampoo, conditioner, serums and tonic help maintain hair health. Create a hair routine that suits your scalp.
Good diet
Nothing replaces nutritional food intake. Ensure you have good dietary foods such as eggs, spinach and other green leafy vegetables to help boost your hair health.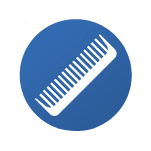 The right grooming tools
Plastic combs cause micro-tears in your scalp, weakening your follicles. A wooden comb evenly distributes natural sebum more evenly throughout the mane, making your hair resilient against everyday challenges.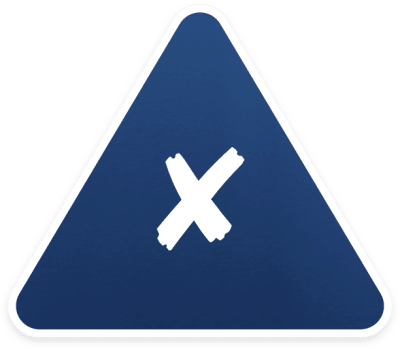 What it won't do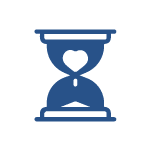 Fast Results
All good things take time, so does growing back healthy hair that stays.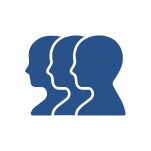 Solve The Problem Equally For All
Each person is different, and similarly, the way our hair care solution works for everyone is different.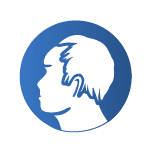 Won't add pigment to aged hair
If you're over 35 and expecting this hair tonic to help you reverse greying, we'd suggest enjoying the wisdom-gained and don that look with pride!
Won't make hair healthy in one day
This tonic is meant to work with other products aimed at maintaining hair health. Don't only depend on this hair tonic to do the job. It is a perfect step 1 but not a complete solution to maintain healthy hair.
HOW WE COMPARE


Paraben Free

Alcohol Free

Silicone Free

Mineral Oil Free

Cruelty Free

100% Vegan

Contains Paraben

Has Alcohol

Contains Silicone

Has Mineral Oils

Tested on Animals

Has Animal by-products
CONTACT US
Got Questions?
Its normal to be curious, we will answer your doubts comprehensively here, for everything else we are just a Whatsapp message away.
DarkMax Hair Tonic (60 ml)
Live a better life. Try our products now.
Get 20% Cashback in your MM Wallet.
Applicable on all orders when you pay online.
*Cashback is credited to your wallet once your order is delivered.
Delivery Instructions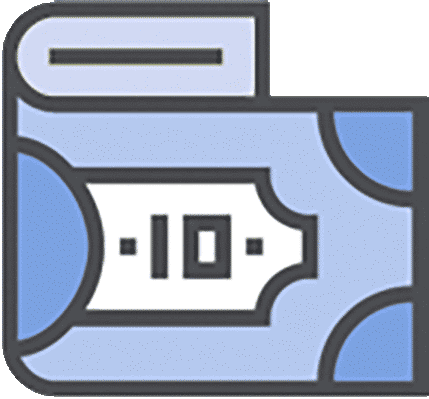 COD AVAILABLE
You can pay for
your order
on delivery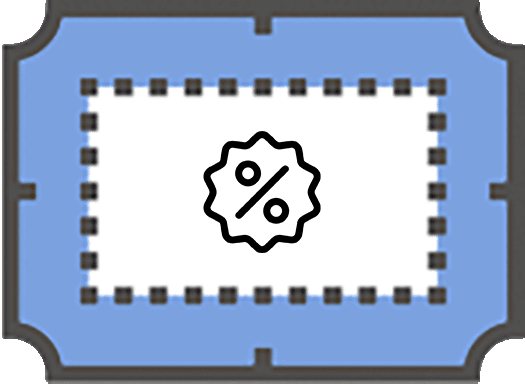 20% CASHBACK
When you pay online by card, netbanking or UPI/GooglePay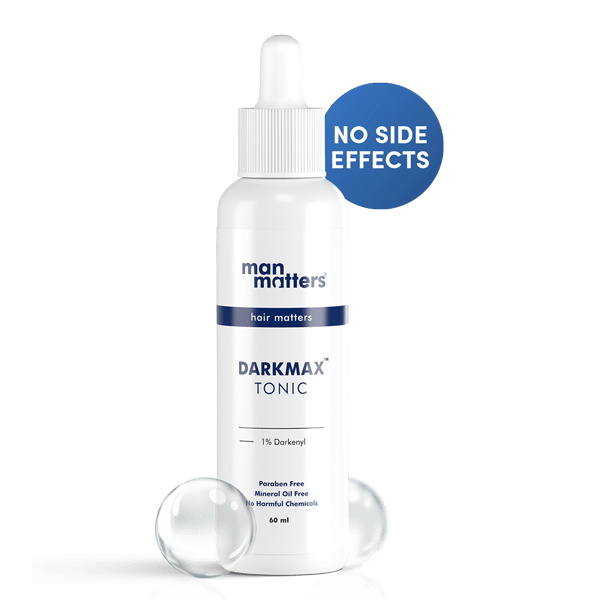 Clinically Proven Hair Treatment for Premature Greying
DarkMax Hair & Beard Tonic with Darkenyl (60 ml)
The product has been added to the cart