Key Ingredients 🌿
Usage Instructions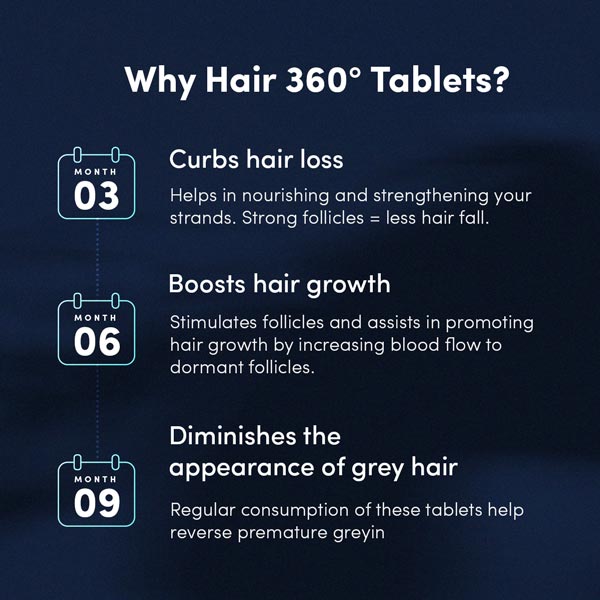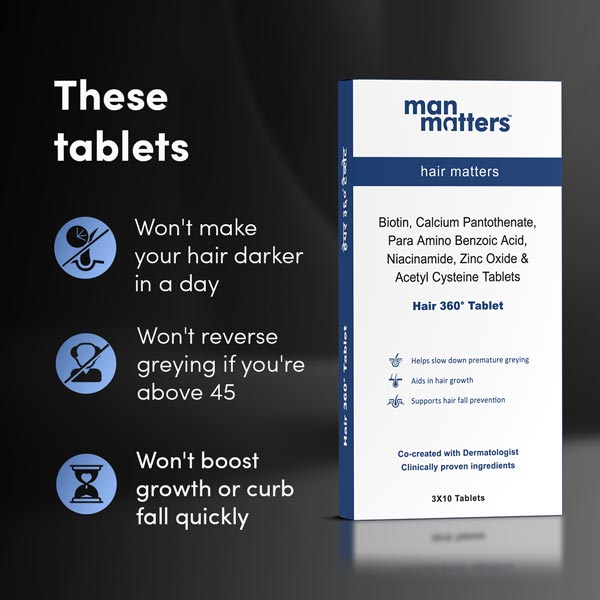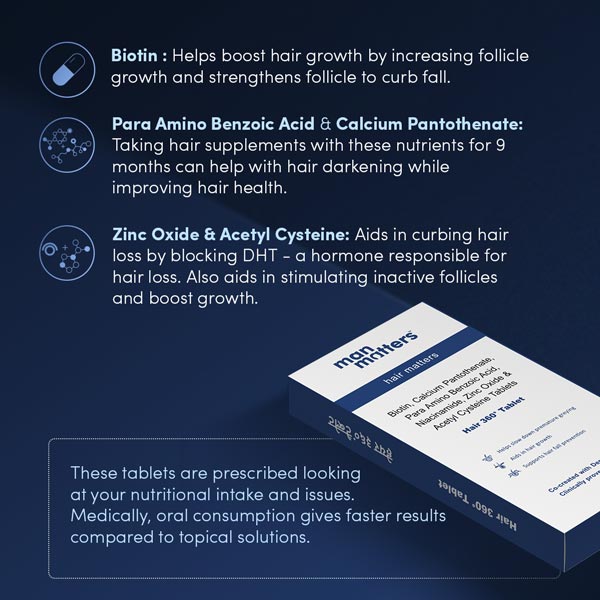 Tablets for Hair Growth, Hair Fall, Premature Greying
360° Hair Tablets for Men: Hair Supplement with Biotin
Check Delivery Date
Enter pincode to check delivery date of your wellness regime.
Click to Save 25%
Man Matters 360° Hair Tablets for Men is a prescription product that reduces premature greying, boosts hair growth, curbs hair fall and improves hair health. This monthly pack of hair supplements contains hair-benefitting ingredients like 10000 mcg of Biotin, Zinc Oxide, Niacinamide, Acetylcysteine, PABA and Calcium Pantothenate.
One hair tablet a day for 9 months gives you healthy hair and helps give you your natural hair colour without any side effects!
Product Details
1 pack contains 30 Tablets
What does the product do
Curbs hair loss
Hair loss happens due to weak follicles and an undernourished scalp—Niacinamide and Zinc Oxide in these tablets for hair fall helps in nourishing and strengthening your strands. Strong follicles = less hair fall.
Boosts hair growth
Providing the proper nutrition to your scalp can help boost hair growth. These hair growth tablets have Biotin and Acetyl Cysteine, which help stimulate follicles. Acetyl Cysteine and Biotin promote hair growth by increasing blood flow to dormant follicles. Regular consumption of this hair supplement results in thicker and fuller growth.
Diminishes the appearance of grey hair
While greying is a natural process, premature greying is not. Premature greying happens due to stress, lack of nutrition, damage caused due to treatments or genetic factors. These hair care tablets contain Para-Amino benzoic Acid (PABA) and Calcium Pantothenate, a part of B-complex vitamins.
Studies
have shown that regular consumption of these hair vitamins helps reverse premature greying.
Subscribe and Save
Get your monthly supply of Hair 360 Tablets. Choose the duration of your plan and leave the rest to us. Pay now and maximise your savings.
Select Duration
1 pack every 30 days 3 deliveries
16% OFF
1 pack every 30 days 3 deliveries (16%)
1 pack every 30 days 4 deliveries (25%)
1 pack every 30 days 6 deliveries (30%)

Get Free Gift worth Rs 199

BUY NOW
How it works
Pay Rs
1269
now, get
3
deliveries every
30
days for your product
Pause or cancel your subscription anytime
Who is it for
These hair tablets are for you if: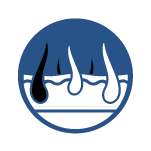 How does it do it?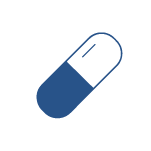 Biotin
These hair care tablets contain Biotin, also known as Vitamin B7. Biotin for hair helps stimulate keratin production - a component for hair growth. Therefore, regular consumption of these hair tablets with Biotin helps boost hair growth by increasing follicle growth. It also helps curb hair fall by strengthening follicles.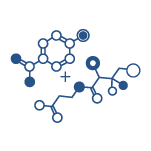 Para Amino Benzoic Acid and Calcium Pantothenate
Para Amino Benzoic Acid (PABA) and Calcium Pantothenate are two components that help re-pigment grey hair. Taking hair supplements having these nutrients for about 9 months can help with hair darkening while improving overall hair health.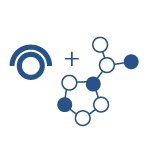 Zinc Oxide and Acetyl Cysteine
When used together, Zinc Oxide and Acetyl Cysteine help improve hair health by nourishing the scalp. These tablets for hair fall contain Zinc Oxide, which helps curb hair loss by blocking DHT - a hormone responsible for hair loss. Acetylcysteine helps stimulate inactive follicles and boost growth.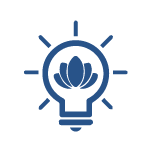 Effective Solution
These ingredients work best when taken orally. Thus, in tablet form, they are more effective.
Ingredients list
Biotin, Calcium Pantothenate, Para Amino Benzoic Acid, Niacinamide, Zinc Oxide, Eq. to elemental Zinc Acetyl Cysteine. Colour: Erythrosine.
Safe and Effective
Clinically proven ingredients
No side effects
Australian Made Safe Certified
Clinical Proof
Lab tests and certifications
Made Safe
Certified
how to use
Take one hair tablet per day, 30 mins after a full meal.
Caution: Do not exceed recommended usage. Do not use 360° Hair Tablets for Men without prescription. Protect these hair care tablets from light and moisture.
What it works best with?
Products targeted to maintain hair health
Choosing the correct shampoo, conditioner, serums and tonic help maintain hair health. Create a hair routine that suits your scalp.
Good diet
Nothing replaces nutritional food intake. Ensure you have good dietary foods such as eggs, spinach and other green leafy vegetables to help boost your hair health.
The right grooming tools
Plastic combs cause micro-tears in your scalp, weakening your follicles. A
wooden comb
evenly distributes natural sebum more evenly throughout the mane, making your hair resilient against everyday challenges.
What it won't do
Fast Results
All good things take time, so does growing back healthy hair that stays.
Solve The Problem Equally For All
Each person is different, and similarly, the way our hair care solution works for everyone is different.
Won't add pigment to aged hair
If you're 40 and expecting these hair care tablets to help you reverse greying, we'd suggest enjoying the wisdom-gained and don that look with pride!
Won't Completely Stop Hair Fall
These tablets for hair fall are meant to work with other products aimed at reducing hair fall. Don't only depend on this hair supplement to do the job. It is a perfect step 1 but not a complete solution to hair loss.
CONTACT US
Got Questions?
Its normal to be curious, we will answer your doubts comprehensively here, for everything else we are just a Whatsapp message away.
Live a better life. Try our products now.
Get 20% Cashback in your MM Wallet.
Applicable on all orders when you pay online.
*Cashback is credited to your wallet once your order is delivered.
Delivery Instructions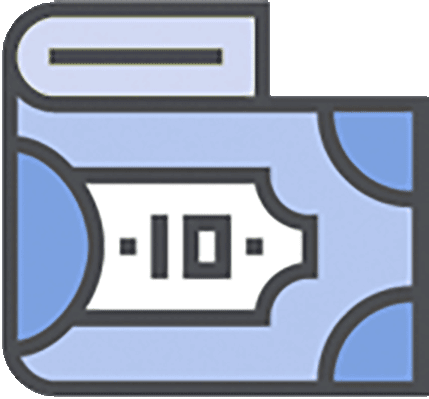 COD AVAILABLE
You can pay for
your order
on delivery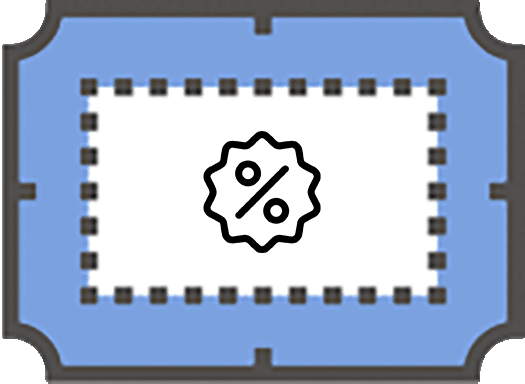 20% CASHBACK
When you pay online by card, netbanking or UPI/GooglePay
Tablets for Hair Growth, Hair Fall, Premature Greying
360° Hair Tablets for Men: Hair Supplement with Biotin
Add to Cart
BUY NOW
The product has been added to the cart
Adding subscription to cart