Key Ingredients 🌿
How It Works
Visible Effects
Usage Instructions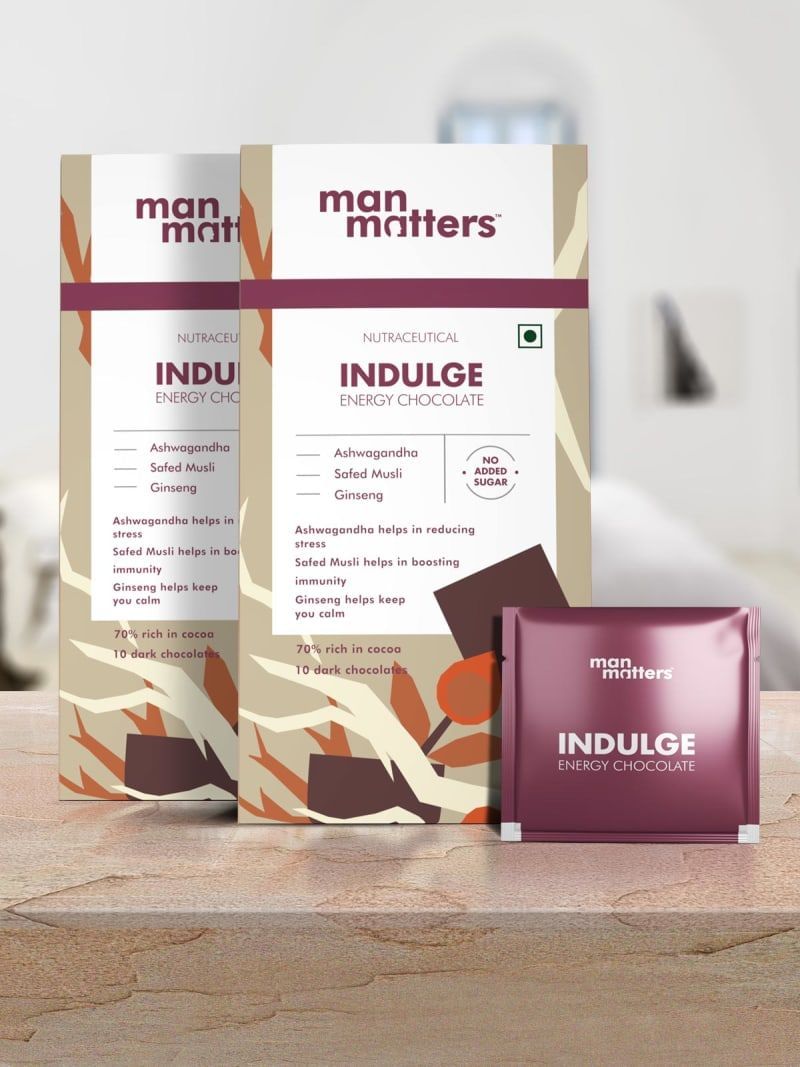 Nourished with 3 Power Herbs
INDULGE Energy Chocolate Pack of 2
MRP (Incl. of all taxes)

Get Surprise Gift on first order above ₹999
Check Delivery Date
Enter pincode to check delivery date of your wellness regime.
Energy Chocolates are made with the choicest ingredients, handpicked to boost your wellness, energy and performance over time. Enjoy the rich dark taste with 70% pure cocoa chocolate, while giving yourself the daily recommended intake of Ashwagandha, Safed Musli and Ginseng.
Product Details
1 Pack consists of 10 pieces
Eat 1 daily post meal
KEY INGREDIENTS
Choicest ingredients to boost your performance & well-being
ASHWAGANDHA
Boosts endurance, and is the best stress buster (*second only to bubble wrap).
An ancient Indian herb often known as Indian ginseng. A super ingredient which singlehandedly reduces stress & increases desire, testosterone levels & endurance.
SAFED MUSELI
Safed in the name, green in the game. A herbal aphrodisiac that also improves immunity.
Better known as "divya aushadhi" or white gold, it's an immunity booster & potent stimulant especially effective against performance hindrances arising from Diabetes.
GINSENG
Helps your muscles relax & improves blood flow & improves blood flow to the parts that matter.
Decreases oxidative stress in tissues and enhances blood flow in muscles.
CHOCOLATE
Improves desire, has mood-lifting effects. No wonder it's a must for dates!
Dark Chocolate
DARK (VEGAN)
A 100% Vegan Variant With 70% Cocoa Content for Dark Chocolate Connoisseurs. Integrates very well with both Vegan & Keto Diets.
Holistic Solution
Non Prescription
No Side Effects
No Added Sugar
Gluten Free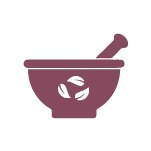 100% Natural Ingredients
Learn More about all the ingredients used in our products
🌿 Learn More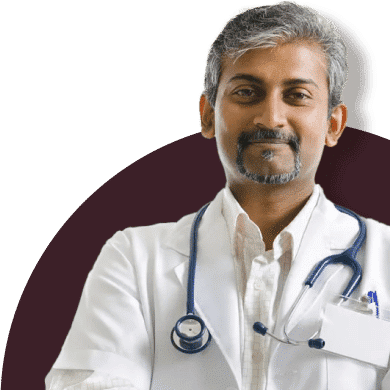 Begin your wellness journey with a complimentary doctor consultation
Consult Now
Clinical Proof
Lab tests and certifications


Made Safe
Certified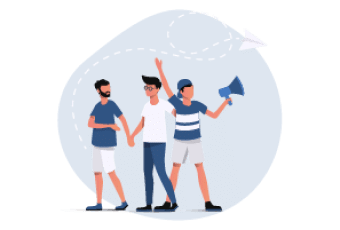 Help your friends & Earn Money
Refer & Earn up to Rs 2000 in your Man Matters Wallet
Refer Now
WHY DO I NEED THEM?
Loss of Vigour
A growing epidemic affecting 1 of every 10 Indian Men across age groups.
While our lifestyles are the root cause, natural remedies backed by science can help keep your vigour alive.
Sedentary Lifestyle
Increasing stress, sedentary lifestyles, increasing lifestyle diseases like diabetes, unhealthy lifestyle choices like smoking, drinking & an unhealthy diet are all contributing factors.
Natural Solution
To combat a lifestyle, you need a solution for life. Natural solutions should always be preferred for the lack of side effects.
Early Action
Prevention is better than cure. The sooner the act, the sooner you can nip the slowing down in the bud.
WHY CHOCOLATES
Better performance is not a piece of cake...It's a piece of chocolate.
We believe that being healthy shouldn't be so tough, certainly shouldn't be boring. So we invented a delicious, easy and fun way. Pop chocolate, not pills!
HOW IT WORKS
A complete solution with a multipronged approach
REDUCES STRESS
INCREASES TESTOSTERONE
INCREASES STAMINA & ENDURANCE
Chronic stress can cause your body to produce too much of the hormone cortisol, which can lower your desire. Our chocolates help you reduse stress and hence increase your desire.
If a male has a low level of testosterone, the symptoms can include endurance problems and reduced drive, which is common in men as they age. Energy Chocolates help maintain correct levels of testosterone in the body.
Stamina is an important aspect of a healthy and satisfying life, for both you and your partner. The carefully chosen ingredients help increase stamina and endurance in bed.
HOW TO USE
WHY IS A HEALTHY WELLBEING SO IMPORTANT?
A Good Wellbeing Has the Following Perks Beyond the Bedroom
Improves Physical Health
Improves Physical Health by keeping diseases at bay and relieves stress.
Improves Social Health
Strengthens Intimacy in Relationships.
Improves Emotional Health
Boosts Self Esteem & overall state of Happiness.
HOW IT'S USED
1 piece of chocolate = Recommended Daily Intake of Ashwagandha, Safed Muesli, Ginseng
Detailed Instructions - Pop a chocolate a day, like we said - simple!
Pop a piece of chocolate post meal at the same time everyday to make it a habit, preferably as a post meal dessert.
Warning: Our chocolates are delicious. So make sure you stop at one a day :)
P.S.: Do not take more than the recommended dosage.
Now enjoy chocolate guilt free - not only are they good for your wellness but they do not contain any added sugar, gluten free & without any added colours or preservatives.
Make these chocolates a regular part of your daily diet & watch your performance bloom.
Why choose Man Matters?

Free Doctor Consultation
The wellness ecosystem is broken and we intend to fix that. We believe that expert doctor advice and consult shouldn't be so hard, our expert dermatologists are always there to help you and give their advice.

We get you
Talking about personal health is hard. Often embarrassing. We get that. So we took 'matters' into our own hands; and created a place for all matters of man. Hair, skin, weight, sleep, performance and much more. We get you, and we get what matters to you.

Expert Backed Solutions
With so many unreliable sources and searches, it's hard to decide whom to trust. Our solutions are trusted by experts, and are backed by science. We believe that wellness has a science behind it and we want to make it more accessible.

Extended Care & Follow-ups
Wellness is an actively pursued goal of being in a state of good health. We believe that compliance and discipline matter if you want to move towards wellbeing, and we get that it's not easy. We are here to handhold you and help you on this journey.
Stay up to date with all our new product launches, promotions and offers
Enable Alerts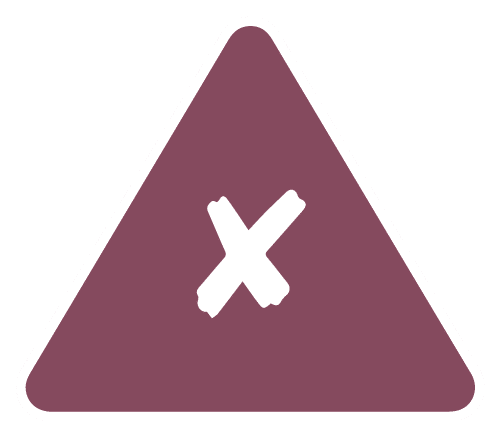 THINGS TO NOTE
Here's what our Performance Chocolates Don't do

Give Instant Results
All good things take time, so does restoring your virility. We can't stress this fact enough: Prevention is better than cure. So for best results, start taking these chocolates before you notice a dip in your performance.

Solve the problem equally for all
Each person is different, and the way our solution works on everyone is different.
Find you someone to love
We just give you the confidence to put yourself out there.
CONTACT US
Got Questions?
Its normal to be curious, we will answer your doubts comprehensively here, for everything else we are just a Whatsapp message away.
Q.
Do I have to take it at a specific time?
+
You should take it at the same time daily to make sure it's a habit and you're consistently taking one chocolate a day. For example, as a dessert after your lunch/dinner daily.
Live a better life. Try our products now.
Get 20% Cashback in your MM Wallet.
Applicable on all orders when you pay online.
*Cashback is credited to your wallet once your order is delivered.
Delivery Instructions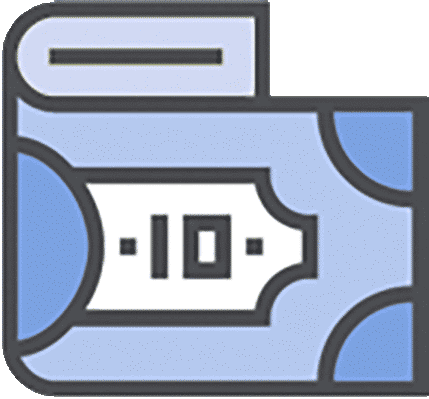 COD AVAILABLE
You can pay for
your order
on delivery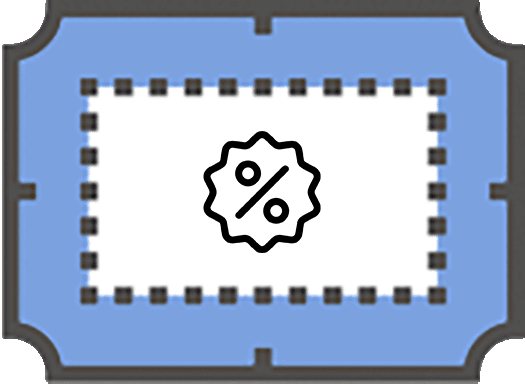 20% CASHBACK
When you pay online by card, netbanking or UPI/GooglePay
Nourished with 3 Power Herbs
INDULGE Energy Chocolate Pack of 2
The product has been added to the cart