Key Ingredients 🌿
Usage Instructions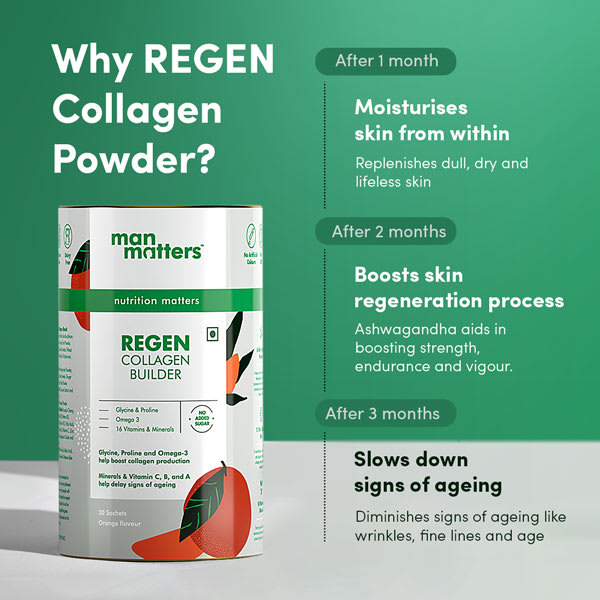 REGEN Collagen Builder
Check Delivery Date
Enter pincode to check delivery date of your wellness regime.
With age, we start losing the lustre of our face, thanks to pollution, UV rays and depletion of a protein in our body - Collagen. Lack of collagen leads to wrinkles, dull and lifeless skin. REGEN Collagen Builder is a mix of Omega - 3, 6 Anti-Ageing Powders, 11 Pro-Collagen Blend components and 16 Vitamins and Minerals. Regular intake of this drink improves elasticity, supports collagen production and gives you that glow-from-within!
This blend is mixed in powder and comes packed in 30 easy-to-carry sachets. Just tear, mix and drink! Maintaining skin health was never this easy!
Product Details
1 pack contains 30 sachets of 8gm each
What does the product do
Moisturized skin from within
Loss of collagen can lead to dull and dry skin. While topical products help the first few layers of your skin, this collagen powder can help moisturise skin from within. This powder has a blend of Sea Buckthorn, Green Tea Extract, Acai Berry, Aloe Vera Extract & Hyaluronic Acid. These popular skin moisturising ingredients replenish and moisturise skin from within to give you that plump, softer and hydrated look from outside.
Boosts skin regeneration process
Skin can renew and repair itself. Lack of collagen slows down this process, and thus, skin looks damaged and lifeless for much longer than intended. This collagen drink has 11 Pro-Collagen ingredients like Lemon Powder, Orange Fruit Powder, Spinach Leaf Powder, Spirulina Powder and Wheat Grass Powder. These extracts and powders together boost collagen production, which helps promote and faster the skin regeneration process. Say hello to truly healed and glowing skin!
Slows down signs of ageing
Collagen is a protein that is responsible for maintaining the structure of our skin. With age, the reduction of collagen causes fine lines, wrinkles and sagging. With all the nutrients we take, we forget to feed our skin. This collagen powder is food for youthful skin. It contains Omega - 3 and 6 Anti-Ageing ingredients that boost collagen production, resulting in improved skin elasticity and reduced signs of ageing. Regular intake helps diminish the appearance of wrinkles, fine lines and age spots resulting in youthful-looking skin.