Medically Reviewed by
Dr. Neha Surywanshi
, M.Sc.in Dietetics & Food Service Management, P.G.Diploma in Clinical Nutrition and Dietetics, Reviewed on 25th January 2021
Jaiphal or Jaifal is an exotic spice used in cuisines globally. It imparts a warm, sweet, and mild fragrance to the dishes. Jaiphal in English is popularly known as Nutmeg.
It is commonly used in puddings, baked items, beverages, meat, vegetables, and potatoes.
Nutmeg seed or ground spice belongs to species Myristica fragrans. Aromatic nutmeg is the only tropical evergreen tree that is cultivated for two distinct spices nutmeg and mace – the rosy lacy covering of the seed, with a mild flavour, giving orange colour to the dishes.
It is grown commercially for its nutmeg butter and essential oil.
Indonesia is the largest producer of nutmeg in the world. In India, nutmeg is grown in certain areas in southern states of Tamil Nadu, Kerala, and Karnataka. It also grows in Malaysia, China, the Caribbean Islands, Taiwan, South America, and Sri Lanka.
Besides its many culinary uses, nutmeg contains potent anti-inflammatory plant compounds that act as antioxidants.
These may help blood sugar control, enhance mood, and heart health, though more research is required on these effects in humans.
Jaiphal Nutrition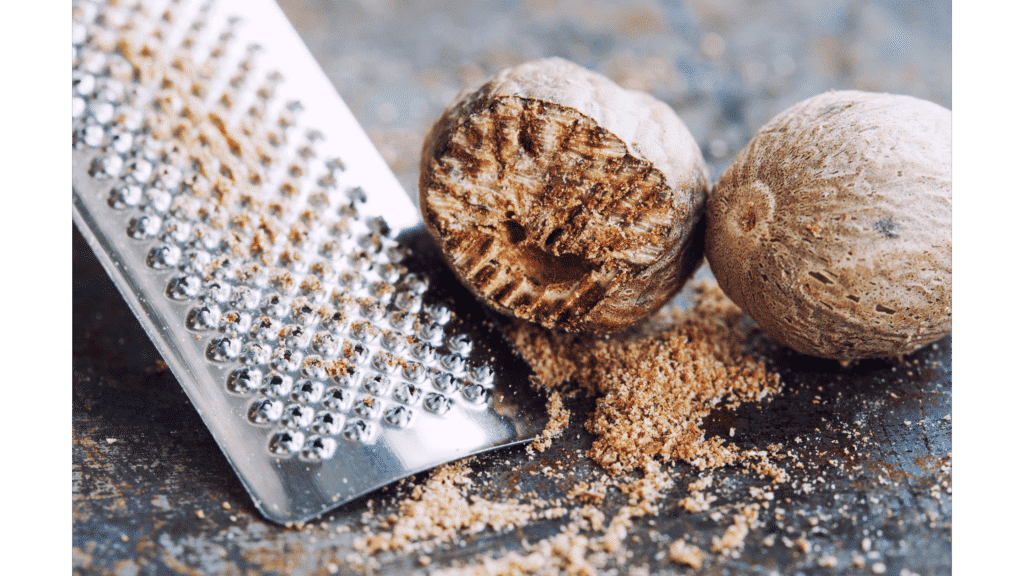 This spice is a good source of minerals such as potassium, copper, manganese, calcium, zinc, iron, and magnesium. Potassium is an essential constituent of body fluids and cells that control blood pressure and heart rate.
Also Read: How To Take Ashwagandha? Best Time To Take Ashwagandha
Zinc, calcium, copper, and manganese support bone mineral density. Iron is vital for the production of red blood cells.
It includes several vital B-complex vitamins, such as folic acid, vitamin-C, niacin, riboflavin, vitamin-A and several flavonoid antioxidants like cryptoxanthin and beta-carotene that are essential for great health.
Benefits of Jaiphal
Apart from being a well-liked spice all over the world, nutmeg is also known for its numerous health advantages. Since early times, nutmeg has been used as a fix for multiple conditions or even health in general. Here are a few Jaiphal benefits on health that you should know about.
1. Jaiphal for better libido/sex drive
Nutmeg extract is known for healthy libido-enhancing effects. Clinical investigations have shown that regular supplementation of nutmeg within the set dose limit led to intensified sexual activity and a significant increase in desire for sex in a sustained manner. Add a pinch of Jaiphal powder to milk or tea to spice up your sexual life.
Also Read: Ashwini Mudra: Benefits for Sexual Health & Piles
2. Jaiphal for skin and hair
The antimicrobial properties of nutmeg help to treat acne and pimples, while the anti-inflammatory properties clear blemishes and marks. Jaiphal also makes the skin look younger, reduces wrinkles, and gives it a lighter tone. Nutmeg works wonders for hair by treating damaged scalp and eliminating dandruff.
3. Jaiphal for the brain
The primary compound found in nutmeg is myristicin, which hinders the action of an enzyme that is responsible for Alzheimer's disease. It also eases mental stress, apart from improving your memory. Add this spice to your meals as it acts as an efficient natural remedy to combat anxiety and depression.
4. Jaiphal for pain relief
The essential oils present in nutmeg can be used to relieve pain as they have anti-inflammatory properties. The phytosterols in nutmeg reduce inflammation of the joints and relieve rheumatic pains. According to experts, chloroform extract of nutmeg has antithrombotic and anti-inflammatory properties which are useful in relieving swelling and inflammation in patients with rheumatic pain.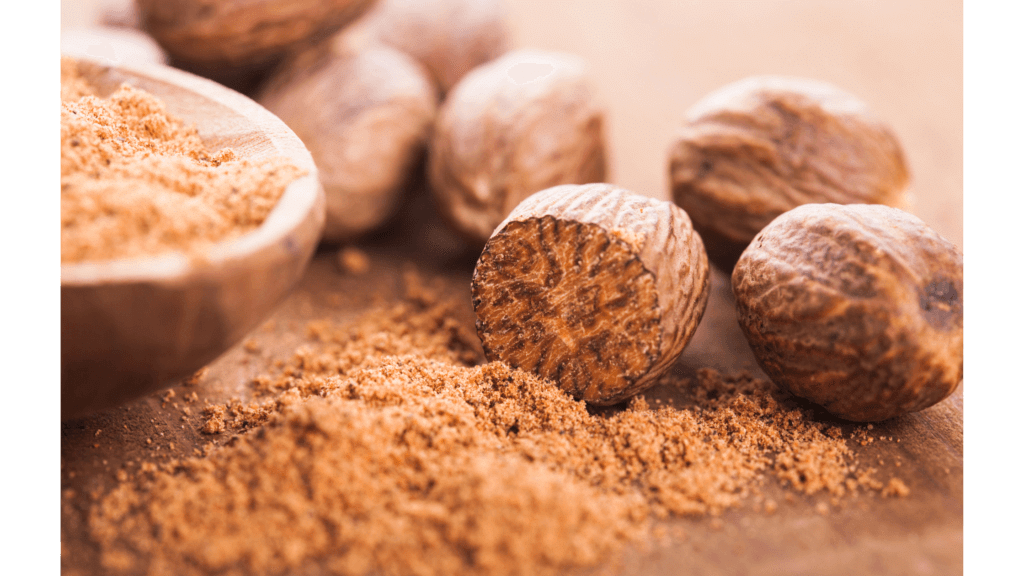 5. Jaiphal as an antioxidant
Nutmeg contains antioxidants such as Vitamin C which helps boost the immune system. It also prevents the formation of free radicals which help prevent cellular damage and protect against chronic diseases.
6. Jaiphal for digestion
If you suffer from indigestion, acidity, and constipation often, then you can consume nutmeg. It is rich in fibre content and helps in bowel movement, and eliminates gas from the body. It also arouses the secretion of digestive enzymes in your body and offers relaxation.
7. Jaiphal for insomnia
If you are not able to sleep, then you can add nutmeg toyour diet as it offers a natural cure for insomnia. Jaiphal's calming and sedative properties provide relaxation to the brain and aids you in getting a sound sleep. It also provides de-stressing effects.
8. Jaiphal for toothache
The essential oils and bioactive compound, eugenol in nutmeg relieve toothache and prevent tooth decay. Nutmeg oil is also very effective against bad breath.
9. Jaiphal for cancer
Nutmeg's compounds hinder aspects of a cancer cell's metabolism, thus killing malignant cells while sparing healthy, normal cells. Moreover, the bioactive compound, phytosterols, is present in sufficient quantities in nutmeg. This compound protects against colon cancer by slowing down the reproduction of cells in the large intestine.
10. Jaiphal for a healthy heart
Nutmeg improves blood lipids and reduces oxidative stress. It also lowers triglycerides levels (bad cholesterol).
11. Jaiphal for blood pressure
Nutmeg helps manage hypertension. As this spice is rich in magnesium, potassium, and calcium, it helps to control high blood pressure.
Also read: What Is Shatavari? Uses, Benefits, And Side Effects Of Shatavari
How To Consume Jaiphal (Nutmeg)?
You can make Jaiphal powder and mix it with honey, milk, tea, etc. It can also be added in soups and stews, puddings, and kheers as well as several bakery items and savouries to get the benefit.
When To Consume Nutmeg?
There is no specific time suggested for consuming nutmeg. A pinch is added to various preparations to improve taste and flavour. However, care should be taken to avoid excessive consumption.
Although nutmeg may offer such great health benefits, it is better to consume this spice in small amounts, as large doses can cause serious side effects.
Also read: Ashwagandha For Height. How Does Ashwagandha Increase Height?
References