Key Ingredients 🌿
Usage Instructions
Vital Health Strengthening Kit
Vital Health Strengthening Kit
Vital Health Strengthening Kit
Check Delivery Date
Enter pincode to check delivery date of your wellness regime.
Vital Health Strengthening Kit
With the busy lifestyle we live, getting optimum nutrition is difficult. This kit contains our best-selling and easy to use gummies with multivitamins and multiminerals needed for men's health, and the purest ashwagandha! Pop 2 each of our Multivitamin Gummies and Ashwagandha Gummies every day for better immunity, reduced stress, stronger bones, improved concentration and optimum physical fitness.
Product Details
1 x Ashwagandha Gummies (1 Packet contains 60 Gummies)
1 X Multivitamin Gummies (1 Packet contains 60 Gummies)
WHAT'S IN THE KIT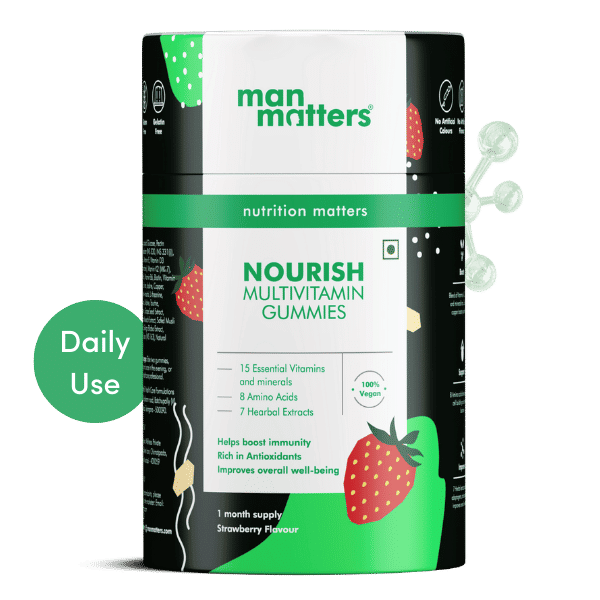 Multivitamin Gummies (60 N)
Ashwagandha Vitamin D Gummies (60 N)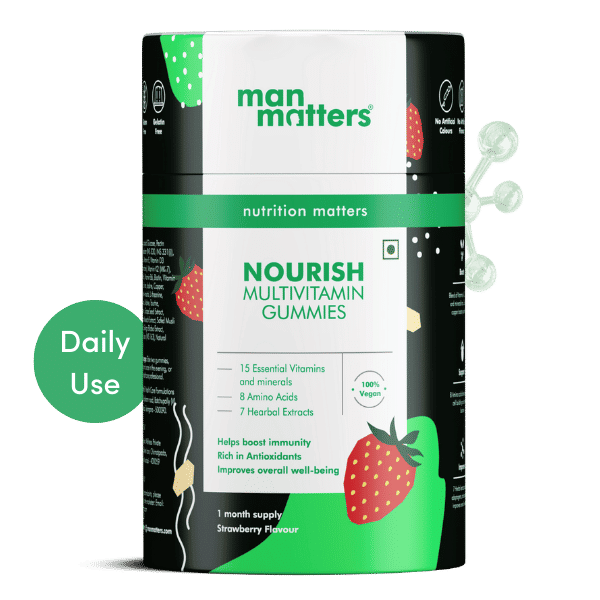 Looking for a way to fulfil your nutritional needs in the most convenient way possible? Each serving of these delicious Multivitamin Gummies is packed with 15 essential Vitamins and Minerals - like Vitamin B12, Vitamin C, Zinc and Magnesium.
In additional to this, each gummy also has 9 Amino Acids and 7 Herbal Extracts to help you be at peak performance, every day. It's the tastiest way to support your daily nutritional needs for optimum health!
Get the benefits of pure and potent Ashwagandha and Vitamin D with these gummies. Each serving includes 300mg of KSM-66 Ashwagandha extract - the highest quality and most well researched form of ashwagandha in the world. It helps maintain mental wellbeing, enhance brain function and promote endurance. It also aides muscle building by boosting testosterone levels in men.They also contain 100% of the Vitamin D required by the body daily (10 mcg), which boosts bone health, supports brain health and improves overall wellbeing. Get all the goodness of Ayurveda's finest ingredient - in the tastiest way possible!
What does the kit do
Enhances immunity
It's essential to guard and strengthen our immune system, so that common infections aren't a frequent occurrence in your life. These Multivitamin Gummies contain essential micronutrients like vitamins A, C, D, E, B9 & B12. Together, they have a powerful antioxidant effect that works to guard your body against illness, boosting your immunity.
Improves quality of life
These gluten and artificial colour-free gummies contain iodine along with essential vitamins like D & B12. Together, they help improve brain function by boosting concentration and memory. Regular consumption helps strengthen bones, resulting in a robust active lifestyle. All this to improve overall well-being!
Supports hormonal balance
One of the most significant reasons for hormonal imbalance is mineral deficiencies, such as Zinc. These gummies contain Zinc and Magnesium, which help boost testosterone levels, reduce stress levels, help regulate the production of thyroid hormones, and balance your sleep cycle.
Improves energy levels
Vitamin deficiency leads to a dip in the body's ability to sustain energy levels - leading to fatigue and tiredness. These gummies contain Folate, Vitamin B12 and Vitamin B5 which improves metabolism, and helps the body maintain adequate energy levels throughout the day.
Decrease in stress levels
In stressful situations, our body releases the hormone cortisol, which induces anxiousness. Ashwagandha Extract is an adaptogenic herb, i.e. it is a natural substance considered to help the body adapt to stress. Regular consumption of Ashwagandha Gummies helps counteract the harmful effects of stress by lowering cortisol levels, improving the body's ability to cope with stressors.
Improved physical performance
Testosterone is a vital hormone for men responsible for strength, endurance and vigour. With time and stress, testosterone levels begin to dip, leading to loss of strength, increased fatigue, and decreased vigour. Ashwagandha Extract helps boost testosterone levels resulting in improved muscle development and strength.