"The health of your hair is defined by the health of your scalp"
Visualize a cascade of white flakes falling from your scalp falling onto your favorite black blazer or shirt in the middle of an important meeting.
Or even the idea of having to scratch your scalp publicly, every 2 seconds.
Not very attractive, is it?
Dandruff and other scalp related issues have managed to affect over half the adult population across the world – beyond gender, age and race.
Fortunately, this embarrassing and "itchy" situation can be avoided- thanks to this miracle of a compound called Ketoconazole. So give the Keto anti dandruff shampoo a special place on the shelf as part of your hair care regime!
Read on to learn the ABCs of Ketoconazole Anti-Dandruff Shampoo- Also known as Kenozole shampoo, Keto shampoo and KZ shampoo.
What is a Ketoconazole Shampoo?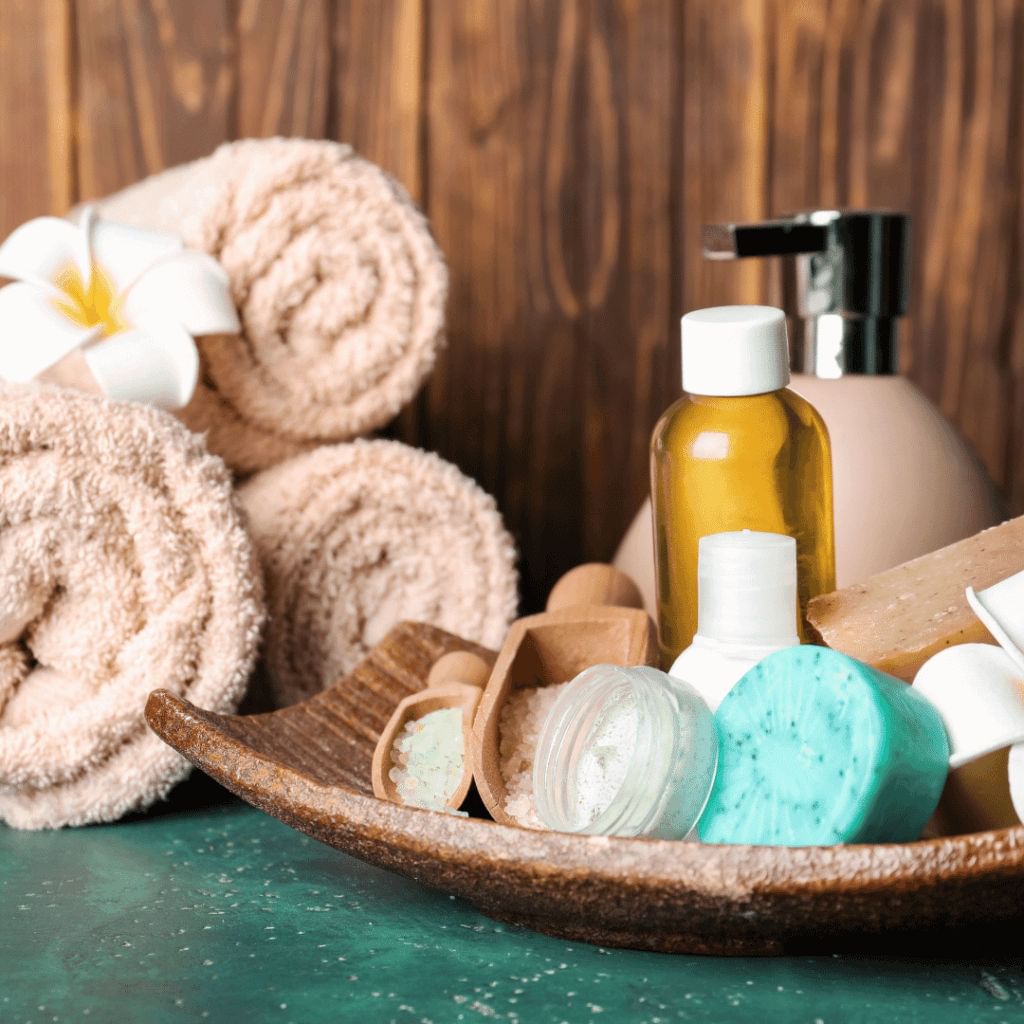 The Keto scalp shampoo is a medicated dandruff shampoo with antifungal properties designed to treat infections affecting the scalp. You can use it for conditions like stubborn dandruff, psoriasis, and more. Shampoos containing ketoconazole are available both over the counter (OTC) and by prescription from a doctor.
Ketoconazole Shampoo Uses

Dandruff
Dry scalp causes some dandruff, while other dandruff is actually seborrheic dermatitis. Research suggests that Seborrheic dermatitis may be associated with an overgrowth of Malassezia. The Ketoconazole shampoo for dandruff can help treat seborrheic dermatitis due to its antifungal properties.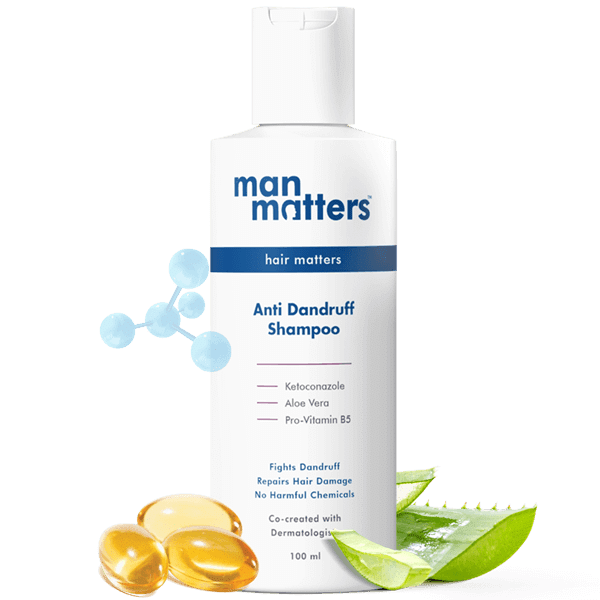 1% Ketoconazole Shampoo for Dandruff
Looking for an effective solution for dandruff & itchy scalp? The wait is finally over with our Ketoconazole Anti Dandruff Shampoo with Aloe Vera Extracts for dandruff-free, healthy scalp & hair!
Hair loss
The Ketoconazole shampoo is excellent for hair loss. Here's why:
Keto shampoos for dandruff also contain antifungal agents that can help fight inflammation associated with androgenic alopecia or male pattern baldness.
The shampoo acts as a scalp treatment—it kills the yeast which decreases inflammation and subsequently stops hair loss.
Clinical studies have also found that ketoconazole boosts individual hair follicle size which helps in the hair growth process.
Psoriasis
An inflammatory skin disease that causes skin flaking, skin plaques, and redness. Yeast-like fungus often infects these skin plaques.
Ketoconazole is a common treatment for psoriasis. Prescription ketoconazole may be needed for psoriasis flares.
Tinea infections
Tinea capitis is a superficial, ringworm-like fungus infection that affects the scalp.
Tinea versicolor is a skin infection that's caused by an overgrowth of a type of yeast that naturally lives on your skin.
Ketoconazole shampoo can also treat tinea capitis and tinea versicolor.
After discovering all these facts- wouldn't you want to try the Ketoconazole solution too?
Also read: 6 dietary culprits that cause dandruff
Types of Ketoconazole shampoo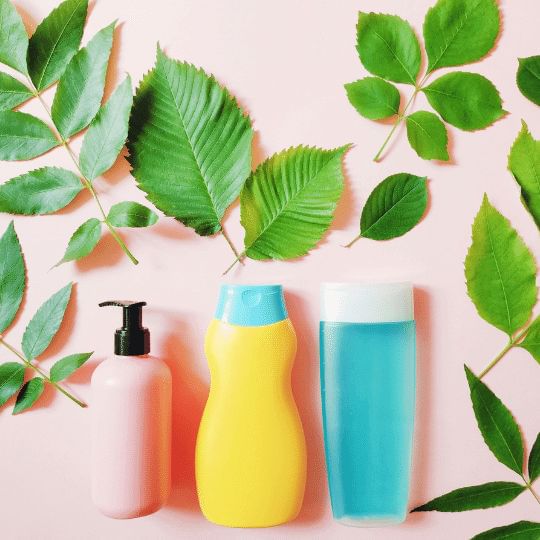 Different types of ketoconazole shampoos are available OTC and by prescription from a healthcare provider.
1% Ketoconazole shampoo: OTC ketoconazole shampoos contain 1 percent or less of ketoconazole.
2% Ketoconazole shampoo: You can obtain shampoos that contain 2 percent or more of ketoconazole with a prescription from your doctor. Brands available by prescription include: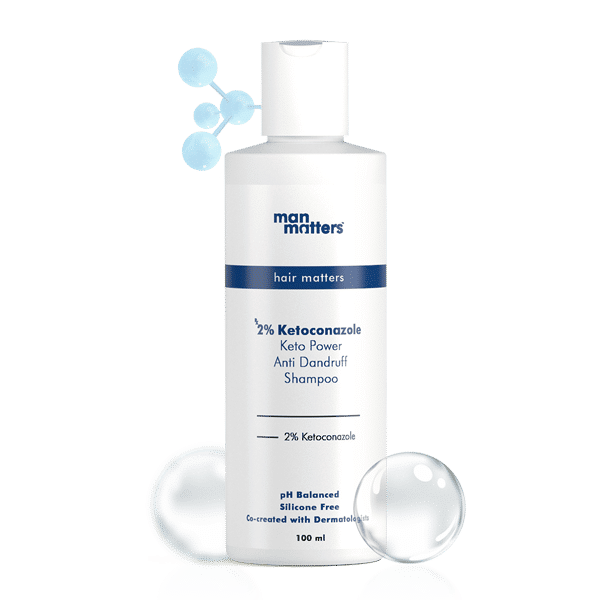 2% Ketoconazole Shampoo for Dandruff
Want a solution for severe dandruff that actually works? Our 2% Ketoconazole Shampoo for Dandruff helps fight not just severe dandruff but also seborrhoeic dermatitis that causes scaling in the scalp!
Ketoconazole Shampoo Price
A Keotconazole shampoo for dandruff and fungal infections ranges anywhere between Rs. 130 to Rs. 1,500. It is readily available on e-commerce websites. However, make sure to purchase your shampoo from a credible buyer because your hair is not an experiment.
Which is the best Ketoconazole shampoo in India?
The Ketoconazole Anti Dandruff Shampoo by Man Matters is currently one of the best Keto shampoos in India. It is specifically co-curated by Doctors to fight off stubborn dandruff without drying out your scalp and hair. It is also enriched with Aloe Vera and Vitamin B5 to provide absolute hair nourishment. 1 bottle of the Anti Dandruff shampoo constitutes 100 ml of product.
How to use Man Matters Ketoconazole Anti Dandruff Shampoo?
Step 1: Rinse your hair, then pump out a coin sized amount of Ketoconazole dandruff shampoo.
Step 2: Massage the anti dandruff shampoo into your wet scalp
Step 3: Leave Ketoconazole anti-dandruff shampoo for 2-3 minutes, then rinse thoroughly with water.
Step 4: You can use this shampoo about 2-3 times per week.
Ketoconazole Shampoo Side Effects
Ketoconazole shampoo may have side effects that you should be aware of before using it:
Skin irritation
Oiliness or dryness of the hair or scalp
Abnormal hair texture
Discoloration
Permed hair to lose its curl as well.
In rare cases, ketoconazole shampoo can result in hair loss, so talk to your doctor right away if you notice this side effect.
Allergic reactions to ketoconazole shampoo are extremely rare, but should be taken seriously. Seek immediate medical attention if you have signs of an allergic reaction like:
severe itching
swelling of the face, tongue, or throat
difficulty breathing
rash
Dizziness
Dosage, number of applications, and the length of treatment depends on the strength of the shampoo (2% or 1%) and the condition being treated. Carefully follow your doctor's instructions or the package directions.
Avoid contact of Ketoconazole shampoo with the eyes.
Do not begin using the shampoo if your scalp/skin is broken or swollen.
Also read: Coconut and camphor oil for dandruff
FAQs

What is Nizoral shampoo?
Nizoral is one of the morst commonly used brands for Ketoconazole shampoo 2% and 1%. It is available in most supermarkets and for online purchase as well. Nizoral has been doing the rounds as a popular anti-dandruff shampoo and remedy for men in the market.
What is KZ Plus Lotion Shampoo?
KZ plus shampoo is another ketoconazole brand shampoo that treats infections of the scalp efficiently. It combines two popular antifungal medicines that manage dandruff and get rid of scalp bacteria. The KZ shampoo is excellent for dandruff treatment as well. Make sure to use it only once your doctor prescribes it.
References
Clio Dessinioti, Andreas Katsambas (2013) Seborrheic dermatitis: etiology, risk factors, and treatments: facts and controversies (National Library of Medicine) https://pubmed.ncbi.nlm.nih.gov/23806151/